Carlo Traversi repeats Meltdown, the Beth Rodden masterpiece in Yosemite
American climber Carlo Traversi has made the first repeat of Meltdown (5.14c) in Yosemite, first ascended in 2008 by Beth Rodden.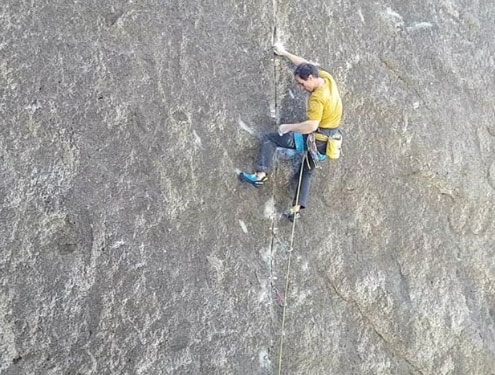 1 / 1
Carlo Traversi making the first repeat of Meltdown in Yosemite, the fierce trad crack climb first ascended in 2008 by Beth Rodden
Katharina Saurwein
Carlo Traversi has made the long-awaited second ascent of Meltdown, the intensely fierce finger crack freed on 14 February 2008 by Beth Rodden at the the Upper Cascade Falls, Yosemite Valley, USA. At the time Rodden tentatively graded the line 5.14c, making Meltdown the hardest single pitch trad climb not only in Yosemite but also America. Furthermore, Meltdown was hailed as the hardest trad climb established by a woman.
With all these accolades, Meltdown understandably caused a considerable stir yet despite attempts by many of the world's best, for over a decade the slightly overhanging crack resisted all suitors. This time span indicates that the line is indeed something out of the ordinary and that Rodden's ascent, regardless of her gender, was well ahead of the times.

Traversi finally made the first repeat yesterday. The 30-year-old Californian began attempting the line in 2013 but, in his own words, he "got completely shut down. Couldn't figure out how to stand on the absolutely miserable footholds." In 2014 he returned and unravelled the crux "a desperate lie back section on gently overhanging granite while smearing on glass" and believed success was imminent, but things turned out somewhat differently. Despite top roping it clean in 2015, he failed on the lead that season and throughout 2016 and 2017. Crisp autumn conditions engulfed the valley last week and success came about yesterday; Traversi climbed the route on his 3rd attempt of the day, placing all gear on lead just as Rodden had done over a decade ago.
After his ascent Traversi commended Rodden "for the vision, tenacity, and incredible climbing ability that brought this route to life over 10 years ago. The First Ascent of this route is a benchmark in the history of climbing and is one of the most impressive achievements I can think of in the last few decades. Respect."