Arthur Kubista, a 9a+ for his 45th birthday
45 year old Arthur Kubista has made the first ascent of Der lange Atem 9a+ at Schattenreich, Höllental, Austria. Maurizio Oviglia recounts this latest ascent of one of the strongest and least known Austrian climbers of all times.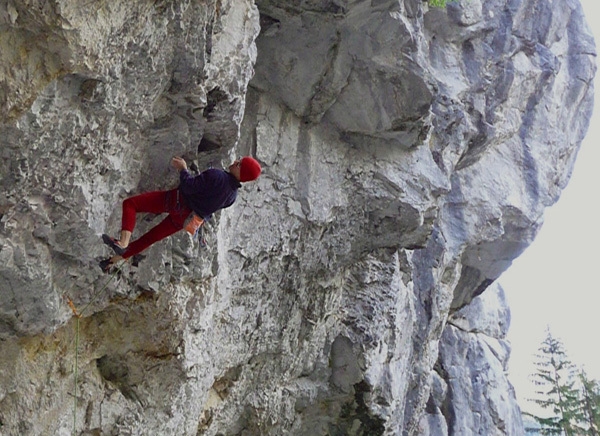 1 / 3
Arthur Kubista making the first ascent of Der lange Atem 9a+, Schattenreich, Höllental, Austria.
arch. Arthur Kubista
Arthur Kubista is one of the strongest Austrian climbers and he's known in Italy above all for his first ascents in Sardinia, which culminate with Zigantumania 8c+ at the Millennium cave. He's distinguished himself at home too with some cutting-edge first ascents up to 9a. Many of these have not yet been repeated and this could be due to the fact that Arthur doesn't like publicising his ascents too much , even if undoubtedly he's pleased if the routes are attempted and repeated by others. I heard about his recent ascent almost by chance thanks to an exchange of emails: it's a 9a+ called Der lange Atem at the crag called Schattenreich, located in the pre-alpine Höllental valley 80 km from Vienna. It struck me that he had freed a 9a+ aged 45, and kept it all to himself, so I insisted a bit until Arthur allowed me to talk about it, specifying that up 'till know he hadn't told anyone...
In an era in which, thanks to the phenomenal new generation, the 9th grade has almost become something banal, perhaps we don't realise how some ascents demand great respect, because they are the crowing achievement of an entire career spent with passion between training, crags and at times serious injury. Last year Arthur almost died due to breathing problems connected to an infiltration of the lungs which risked transforming itself into a lethal injection. Apart from the grade and what repeaters will have to say, we can easily state that there really is no better present that Arthur could have given himself for his "return to life."
But let's let Arthur do the talking: ".
.. the route Der lange Atem, 28m long and for which I propose 9a+, can be divided into two very different sections, split by a complete rest. The first section is circa13m long, violent and very athletic, it climbs two roofs and could be roughly 8c/c+. I freed this last year as a route in its own right and called it "Versehrtendachl" (roof of the maimed), alluding to my serious back injury. The second section is a circa 15m high extension through an overhanging wall, with one really difficult section on micro holds. I managed to link the two sections in the freezing cold on 31 October 2009, producing one single pitch: Der lange Atem."

I know Arthur well and know that he gives considerable thought to the names of his routes. He chooses these carefully and he's always after the right play of words to express sensations or particular emotions felt during the ascent. He'd often like them to be translated properly into other languages, but at times this is difficult. In this case the name refers to the immense desire needed to recover and send this project, which he had started three years ago.
The Schattenreich also hosts the first 9a in eastern Austria, Maitre Vauban und der Basilisk, freed by Kubista in 2003 and unrepeated until now (even if some top climbers have attempted it). Next to this there is another of his routes, Aktion Talon, 8c.
Detailed information about this sector will be published in the next Up magazine, printed by
Versante Sud
.
by Maurizio Oviglia