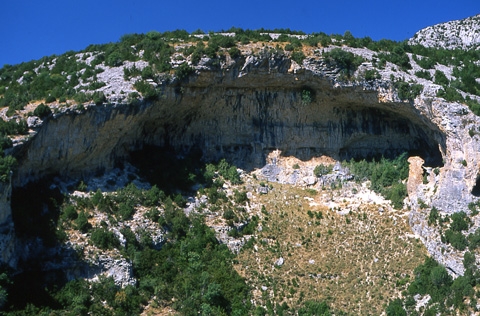 1 / 33
Rodellar, one of the most famous crags in Europe, lies hidden in the folds of Sierra de Guara in Spain. Pictured here the sector Las Ventanas.
Nicholas Hobley
Beauty
Sectors
GO
Deep in Spain's Sierra de Guara lies one of Europe's most famous climbing areas: Rodellar. This limestone eldorado, which takes its name from the tiny village nestled snug at the end of the road in the picturesque Mascun valley, is quite simply breathtaking.
Park the car and walk from the village for just 10 minutes and you'll see what we mean: a beautiful gorge suddenly opens up below, with its multitude of huge overhanging caves, arches, pinnacles and slabs eroded smooth over thousands of years by the Mascun river. Gobsmacking! Catch your breath, rush back to the car, grab your gear, choose the crag which suits you most (tufas? crimps? shade? sun? you name it, Rodellar's got it) and get climbing. And at the end of the day, arms blasted from the three star routes, amble back to the campsite and enjoy the Spanish sunset.
Forget your car for a week. Forget the hustle and bustle of ninetofive. Explore the gorges. Discover why this is also a canyoners dream come true. Live the Rodellar atmosphere to the full. Life, at one of the best crags in Spain, simply couldn't be better...
Access
Rodellar lies km 60 NE of Huesca in Northern Spain, close to the French border. From Barcelona drive west along the A2 to Lerid, from here take the N40 to Monzon, Barbastro and then Rodellar (270km).
Logistics
Campsite with bungalows at Rodellar.
Period
Autumn. Summer can be too hot, and the crag often seeps in winter.
Climb
Mainly stamina climbing on steep, powerful routes.
Total number of routes: 2004: 45: 66a: 246b: 176c: 247a: 317b: 377c: 278a: 258b +: 5
Notes
The crag is tufa lined and consequently suffers seepage after extended periods of rain. There is excellent climbing at nearby Alquezar.
Bibliography
Rodellar - Mascun by Dani Ascaso and Carlos Longrono.
El camino

Routes
| N° | Name | Height | Beauty | Difficulty |
| --- | --- | --- | --- | --- |
| 1 | Que majete | | | 5 |
| 2 | Bugs Bunny | | | 6a+ |
| 3 | Felipe el hermoso | | | 6c+ |
| 4 | Futuras promesas | | | 6c/c+ |
| 5 | Ven abente | | | 6c+ |
| 6 | Yo ke me sé | | | 6b |
| 7 | Para mis amigos | | | 6a+ |
| 8 | Sonrisa vertical | | | 6b+ |
| 9 | Vlur | | | 6c |
| 10 | La larva | | | 6c+/7a |
| 11 | Los loros | | | 6c+ |
| 12 | Vidal | | | 6c+ |
| 13 | Bonny | | | 6b |
| 14 | Clyde | | | 6b+ |
| 15 | Good txingu good | | | 6b+ |
| 16 | Tarzanin de muniellos | | | 6c+/7a |
| 17 | El pupas | | | 7b |
| 18 | Lo tienes claro | | | 7b+ |
| 19 | Conejo caliente | | | 7a+/7b |
| 20 | Toma castanazo | | | 7a+ |
| 21 | Billy el rapido | | | 7a+ |
| 22 | Estampida | | | 7b/7b+ |
| 23 | La tenada | | | 6c+ |
Ventanas
Routes
| N° | Name | Height | Beauty | Difficulty |
| --- | --- | --- | --- | --- |
| 1 | La del taco | | | 7a+ |
| 2 | Buenos comienzos | | | 7b |
| 3 | Las ventanas del Mascun | | | 7b+ |
| 4 | Super chipmunt | | | 7c+/8a |
| 5 | La rubia y el impujador | | | 8a |
| 6 | El lado oscuro de la fuerza | | | 8b |
| 7 | La vara del florentino | | | 7c+/8a |
| 8 | A crabita | | | 8a/8a+ |
| 9 | La cena de isidoro | | | 7b+ |
| 10 | progetto | | | ? |
| 11 | The kings of metal | | | 8a+ |
| 12 | El proletario senecto | | | 8? |
| 13 | Decotation man | | | 8? |
| 14 | Juan y Fran se nos van | | | 7a+ |
| 15 | Canita brava | | | 7b |
| 16 | Bis a Bis | | | 7a+ |
| 17 | La bruja de Blair | | | 7a+ |
Beauty
Sectors
GO