Gallo George - Muraglia di Giau - Lastoni di Formin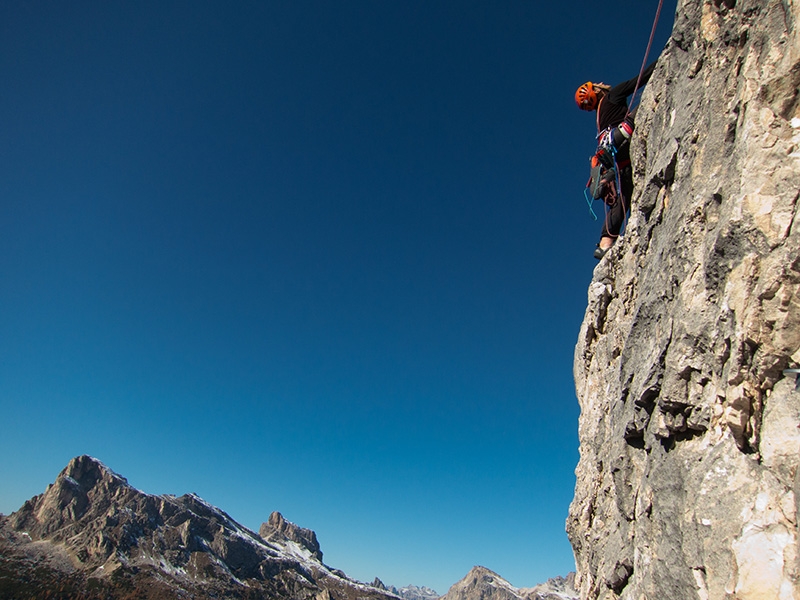 1 / 11
Gallo George: Marco Sterni climbing Gallo George, Muraglia del Giau, Lastoni di Formin, Dolomites (ph Sterni archive)
Planetmountain
Beauty
First ascent
Marco Sterni, Paolo Sterni, Serena Bonin on 17.08.2012
Although the tower broken and discontinuous, the route is pleasant and the difficulties continuous throughout, apart from the second short pitch. The exit onto the summit is particularly beautiful. Rock quality tends to be good but in some places it can be tricky and requires attention. The difficulties (max 5 +), length (240m), bolts, fast approach (1 hour) and easy descent are all factors which make this route well worth repeating, especially in unstable weather.
Getting there
Take the road which leads from Cortina to Passo Giau, park on the left, circa 100m after the signs for "Muraglia di Giau". From here an obvious path leads to Torrione Marcella. Descent
Cross the alpine meadows towards Torrione Marcella to the col and the obvious path used to descend from the route Nikibi. Gear
Full rack. The route is bolt protected. Take some Friends and slings. 1 x 60m single rope or 2 half ropes. 12 quickdraws.
Beauty
First ascent
Marco Sterni, Paolo Sterni, Serena Bonin on 17.08.2012
Routes in the same mountain group
Show more in Croda da Lago