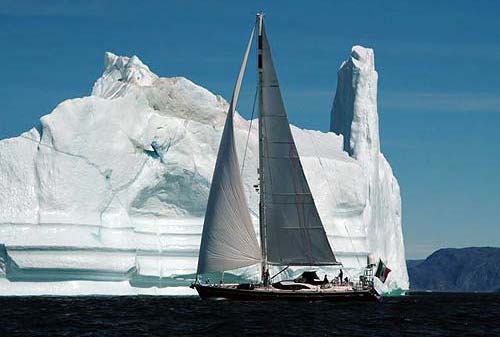 Polar bears, icebergs, a sailing boat, whales and a plethora of unclimbed rock and thousands of new routes to be climbed...In mid August 2006 the Italian Mountain Guides Michele Maggioni and Marco Zaninetti set off with Cristina, Giovanni and the Arctic Guide Kim to the remote Baffin Island in search of unspoilt nature at the end of the world

...


BAFFIN 2006
by Michele Maggioni



Baffin Island is located way up north, almost at the end of the world, close to Canada but at the same time extremely far removed because of its climate, the conditions and its people. Nature is dominated by ice which not only blankets a great part of this territory, but also freezes the seas solid for many months of the year. Little life manages to survive up here: the local Inuit people (often referred to in general terms as Eskimo), his majesty the Polar Bear, whales and seals...



August 2005


We drifted through Baffin Island's Lancaster Sound on board the "Pelagic Australis" after a failed attempt at sailing through the NW Passage. The enormous quantity of ice had "solidified" the sea, forcing us to turn back, but our eyes marveled at the sheer number and quality of the rock faces!



August 2006
Once again we were in a sailing boat, this time on "Billy Budd", a marvelous Oyster 72 belonging to Cristina and Giovanni. And once again we found ourselves navigating around Baffin Island. This time though the idea was to enter into Sam Ford Fjord and climb as much as possible!

We departed from Pond Inlet, an Inuit village on the north coast. Moral on board was high and we met up with friends who had just spent three weeks in Greenland – they, too, we're in great spirits!

Off we set! Rich, Rich jr and Kali steered the Billy Budd perfectly, it felt as if we were in a five-star hotel... The rest of the team was comprised of Cristina and Giovanni, Kim (arctic guide), Marco Zaninetti (a friend and mountain guide from Alagna) and myself.

Weather during the first couple of days wasn't on our side unfortunately and this forced us to enter Sam Ford Fjord a little later than planned. In the meantime we decided to enter Isabella Bay where we climbed two new routes on Bear Slide and one on an unnamed face on the Aulitivik Island. All climbing is protected with traditional gear only, the rock turns out to be perfect granite with magnificent slabs and regular cracks... A shame though that the sun was missing!

During the next few days rain and low clouds forced us to explore this unique territory on foot and to go on "photo shoots": at the end of the trip we had encountered 23 polar bears (Giovanni was unbeatable at sighting them), narvali (cetacean with a large ivory tusk on its nose), whales, seals, arctic foxes and much more.

But we wanted to satiate our desire to climb and, driven by Cristin'a bubbling enthusiasm we abandoned our Sam Ford project and headed further south in search of better weather. We set our sights on Clyde Inlet, a system of fjords and islands to the south of Clyde River, the small Inuit village located roughly half way up the east coast of Baffin Island.

We managed to climb "Bear psychosis" in one afternoon when the weather seemed to improve. Our fear of meeting a polar bear during the descent (on foot in the side gullies) forced us to climb with a gun strapped around our neck; both tragical and comical at the same time!

25 August


Tomorrow we would have for start the long journey home, but today the sun was shining. So we decided to attempt the climb which revealed to be the best of the entire trip.
Three of us set off, Cristina, Marco and I, up an incredible series of cracks and slabs which were never to be underestimated. After seven hours of climbing we reached the top of the route we called "Hubble Dubble 6.8.9" after the game and large quantity of alcohol consumed the night before.

The nice thing about this expedition was the atmosphere and the intimacy that was created on board, driven by the pleasure to explore unknown places, to climb new lines and to trace new routes without leaving a trace... The sea and the mountains are still there, in the fjords, exactly as we found them when we arrived, ready to welcome other "adventurers" and ready to offer them unmatchable outdoor experiences.



Ascents:
Sciurli - 250mt, 5c. Kali, Rich jr, Marco. Bear Slide - 69°34' N, 67°43' W
Tranquilla…- 250mt, 6a+. Cristina, Michele. Bear Slide - 69°34' N, 67°43' W
Prima delle 7 - 550mt, 6a. Marco, Michele. Aulitivik Island - 70°21' N, 68°28' W
Bear psychosis - 350mt, 5c. Cristina, Michele - Kali, Rich jr, Marco. Clyde Inlet 70°11' N, 69°03' W
Hubble Dubble 6.8.9 - 500mt, 6b+. Cristina, Marco, Michele. Clyde Inlet 70°10' N, 69° 45' W.
All climbed using trad pro only

(nuts and friends)
All descents on foot.

ADVICE FOR EXPEDITIONS
How to get there: By plane via Toronto o Montreal to Ottawa, from here with First Air via Iqualuit to Clyde River or Pond Inlet (depending of which fjords you wish to discover). To enter the fjords: in summer by boat, dinghy or kayak; in spring (when the sea is still frozen in the fjords) by snow mobile. Accommodation: once in the fjord it's just like being on the moon, come completely prepared and be self-sufficient. A boat is the most comfortable solution, as it's a warm and safe refuge. The second option is sleeping in tents, bear in mind though that there are plenty of bears on Baffin Island (read Kurt Albert & co's story about their Polar Bear Spire) and a gun is obligatory when you're on land. Supplies can easily be bought in the two villages prior to leaving civilisation. Possible ascents: there's enough rock for everyone, Thousands of new lines abound but above all it's still possible to live out real adventures here. Bear in mind that the Clyde River area gets 24 hours of daylight in spring while in August it gets dark at night for only a few hours.
Thanks to: Kong, Sport Specialist, Del Conca

Info:
Mountain Guide Michele Maggioni
info@michelemaggioni.com
www.michelemaggioni.com


Photo: Baffin Island (ph M. Zaninetti, G. Cristofori E M. Maggioni).