On 7 February 2004 the Italians Elio Orlandi and Luca Fava, and the Argentine Horacio Codò reached the summit of Chalten - Fitz Roy after 7 days of effort via a new, direct line up the stunning Northeast Face. Their "Linea di Eleganza" is graded ED+ 6c/A3 90°/M7, and shares a couple of finishing pitches with nearby El Corazòn.

The trio spent 8 days at the end of January and the beginning of February climbing the long series of granite cracks and slabs, to reach the 3441m high summit.Preparations for the route though had begun three years previously, when Orlandi, in the company of Fabio Leoni and then Rolando Larcher, started to ascend a line in-between "El Corazon" and the "Slovenian Route." Typical Patagonian weather had put an end to these early efforts, and for much of December 2003 it looked as if they would return home , once again, empty handed. Despite near winter conditions they managed to fix 15 pitches to a first bivouac, dubbed "Bivachotel Patagonius". They came across numerous in-situ pegs and bolts, probably belonging to the 1981 Japanese expedition which had hoped to traverse right to the large central corner, climbed direct in 1983 by the Slovenians.






At the end of January the weather suddenly turned and, on 1 February, the mountaineers ascended the fixed ropes to the first bivouac. They continued their "Todo o Nada" ascent throughout a rare 7 day spell of high pressure and, after 6 bivouacs, finally reached the summit. Conditions on the wall had been somewhat complicated, initially due to the snow on the lower section, and then due to seepage and falling rocks on the upper section. Whilst recuperating fixed ropes from the summit a dislodged stone hit Orlandi's hand, rendering the descent somewhat harder than expected.


Editor's note: Orlandi refers to Fitz Roy as Chaltèn. This is the original name given to the mountain by the aboriginal Tehuelche population. Chaltèn means 'mountain that sends out smoke', and the Tehuelche believed the mountain was an active volcano, probably because of perennial summit clouds. The mountain now takes after Captain Robert Fitz-Roy, the English navigator who discovered much of Patagonia with the small sailing ship, the Beagle and captained Charles Darwin on his famous 'origin of the species' discoveries.


photos: three views of Linea di Eleganze by Elio Orlandi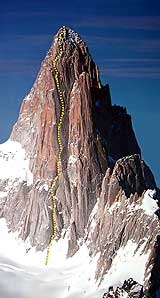 NE Face of Chaltèn - Fitz Roy - Linea di Eleganza.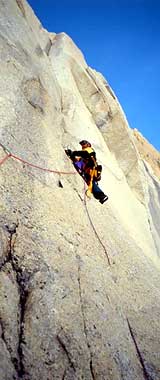 LINEA DI ELEGANZA
NE Face Chaltèn - Fitz Roy (3441m), Patagonia, Argentina
7 February 2004 - Elio Orlandi - Horacio Codò - Luca Fava
Length: 1350m circa + 100m 60° snow ramp at the base (1450 m).
Grade: ED+ 6c/A3 90°/M7 (the route was climbed in difficult conditions with snow and ice lining the cracks. We believe the route can be climbed free in good conditions.