"Piotr is tired and has told me that we can continue, but we'd have to bivy once again. At this point I prefer to retreat, also because Piotr suffered severe frostbite as a result of his winter K2 attempt last year. What is more, the sun has left the face and it's freezing cold". This is how yesterday Simone Moro communicated the end of his attempt to climb Shisha Pangma (8027m). Together with Piotr Morawski from Poland he had been battling for the first winter ascent of the 14th highest mountain in the world.

When the two decided to turn back they had just reached 7700m and, as Moro recounts "long shadows had enveloped us, we were beginning to lose the feeling in out feet and we would have been forced to endure another impossible bivouac". Time was running short: with three hours of daylight, the two were faced with a 100 abseil past seracs to reach the plateau, but with only 50m of rope they had to traverse precariously across windswept slabs and green ice.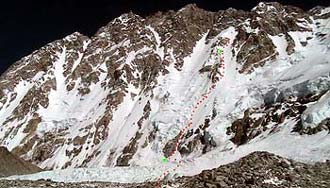 And so, with all reasonable safety margins pushed to the limit, the two returned to C2 at 7100m. From here Piotr continued on down to Camp 1 while Moro, together with Polish mountaineer and cameraman Darek Zaluski, regained his strengths in the hope of attempting one last summit push the next day. But dawn dashed all hopes: ""we woke up covered in ice and with raging winds up to 150 km/h. I left Camp 2 at 11.00 and descended to C1, ABC and finally, at 16.30, reached Base Camp exhausted with a 35kg rucksack!"


"It was an extremely difficult experience and even harder decision to make. It's true that we're the first to climb the steep south face in winter, but the summit is still there, waiting to be climbed. I felt strong and was also reasonably quick, but there was little light left to reach the summit and perhaps... die for it". This is how Simone Moro sums up his decision to turn back.

Moro and Piotr had been following the unrepeated Spanish "Figueras" route. Their attempt highlights the extreme difficulties of climbing one of the Himalayan giants in winter, and this is underlined by the fact that Shisha Pangma, K2, Makalu, Nanga Parbat, Gasherbrum I and II and Broad Peak all await their first winter ascent.


Above: the south face of Shisha Pangma and the Spanish route 10 gennaio 2004.
Right: Piotr Morawski. (ph arch. Simone Moro).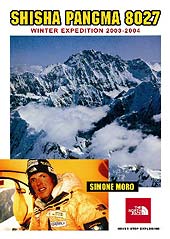 SHISHA PANGMA WINTER EXPEDITION 2003-2004
Team members
Simone Moro ITA
Piotr Morawski POL
Jacek Jawien POL
Darek Zaluski POL
Jas Szulc POL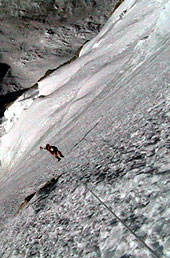 Simone Moro is an athlete of the International Team The North Face