After an intense season, the World Cup 2003 came to an close in Edinburgh last weekend with one name on everyone's lips: Sandrine Levet. The Frenchwoman crowned off a nigh on unrepeatable year with a historic double, winning both the bouldering and difficulty events in Scotland and proving that it is, still, possible to dominate both specialities. Incredible.

Difficulty
The overall 2003 results were a foregone conclusion: even before flying to Scotland Alexandre Chabot had won his third title in a row, and in Edinburgh he finished fourth. Patxi Usobiaga finally proved what he is capable of by winning his first ever World Cup stage, ahead of young Mickael Fuselier from France and teammate Sylvain Millet. Usobiaga's win pushes him up to fourth overall in 2003, behind Francois Auclair and Ramón Julián Puigblanque who, despite placing a surprising 26th, placed second in 2003.

The Women's Difficulty was a foregone conclusion too, with Muriel Sarkany mirroring Chabot's performance, winning her third title in a rowwell ahead of this final stage and, just like Chabot, placing fourth last weekend. As mentioned Sandrine Levet pulled off the impossible by winning both the Bouldering event on Saturday and the Difficulty on Sunday night, beating rival Chloe Minoret and young Maja Vidmar from Slovenia, second and third. Sarkany's youngest rival of late, Angela Eiter, placed fifth and had to settle for third overall in 2003, one position behind Levet.

Bouldering
After a three month lay-off from September to December, the long awaited grand finale finally took place. Meyer, who placed second in the World Championship in July, held his mettle to win his second overall World Cup title (2001 and 2003). His victory steered him a mere 15 points clear of Salavat Rakhmetov, second in both Scotland and 2003. Daniel Dulac qualified for yet another final and finished sixth, guaranteeing a smooth overall third place this season. Keita Mogaki from Japan, in the news recently thanks to his new Fb8c boulder, placed third.

Sandrine Levet, with five victories out of six competitions in the Bouldering World Cup, two wins in the Difficulty, various wins in international masters and, importantly, victory in the World Championship in Chamonix, could hardly have been more devastating this season. Leaving almost no room for her rivals, she forced Olga Bibik to settle for second place once more. Natalia Perlova finished fifth to ensure third overall, while Vera Kotasova from the Czech republic placed third here in Scotland.

Present and Future
2003 will surely be remembered as the year of change and challenge to domination. Sarkany and Chabot suddenly found their superiority being seriously questioned by the likes of Eiter, Puigblanque and Usobiaga, not to mention mrazec and the seemingly limitless supply of young French athletes. 2004 could finally be "their" year. One thing is certain though: Sarkany and Chabot won't relent the throne without a fight, nor will Levet. 2003, just like 2001, is hers. No doubt she's already in training for her trilogy.




Results Difficulty Men Edinburgh
1.
USOBIAGA
Patxi
ESP
2.
FUSELIER
Mickael
FRA
3.
MILLET
Sylvain
FRA
4.
CHABOT
Alexandre
FRA
5.
ZARDINI
Luca
ITA
6.
AUCLAIR
François
FRA
7.
VALJAVEC
Tomaz
SLO
8.
BECAN
Klemen
SLO
9.
CRESPI
Flavio
ITA
10.
POUVREAU
Gérome
FRA



Results Difficulty Women Edinburgh
1.
LEVET
Sandrine
FRA
2.
MINORET
Chloé
FRA
3.
VIDMAR
Maja
SLO
4.
SARKANY
Muriel
BEL
5.
EITER
Angela
AUT
6.
FRANKO
Lucjia
SLO
7.
CUFAR
Martina
SLO
8.
KNORR
Damaris
GER
9.
CREAMER
Lucy
GBR
10.
MARTIN
Delphine
FRA



Results Boulder Men Edinburgh
1.
MEYER
Jérôme
FRA
2.
RAKHMETOV
Salavat
RUS
3.
MOGAKI
Keita
JPN
4.
KAZBEKOV
Serik
UKR
5.
MÜLLER
Matthias
SUI
6.
DULAC
Daniel
FRA
7.
PARRY
Gareth
GBR
8.
SMITH
Malcolm
GBR
9.
LAURENCE
Ludovic
FRA
10.
GAIDIOZ
Loïc
FRA



Results Boulder Women Edinburgh
1.
LEVET
Sandrine
FRA
2.
BIBIK
Olga
RUS
3.
KOTASOVA
Vera
CZE
4.
SON
Mélanie
FRA
5.
PERLOVA
Natalia
UKR
6.
GIAMMARCO
Giulia
ITA
7.
ABRAMTCHOUK
Ioulia
RUS
8.
DANION
Juliette
FRA
9.
DUFRAISSE
Alizée
FRA
10.
THEROUX
Corinne
FRA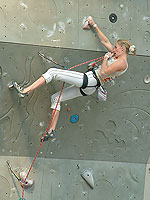 Sandrine Levet, winner of both the Difficulty and Boulder in Edinburgh
World Cup Difficulty and Boulder
Edinburgh, Scotland

4-7 December 2003


Patxi Usobiaga, winner of the Difficulty event in Edinburgh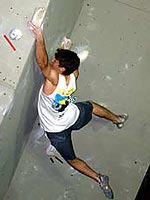 Jérôme Meyer, winner in Soctland and title holder 2003
World Cup Difficulty 2003
I.Imst
II.Yekaterinburg
III. Lecco
IV. Aviles
V. Aprica
VI. Prague
VII. Valence
VIII. Kranj
IX. Shenzen
www.digitalrock.de