The arrival of the cold weather signals the start of hard routing in Britain. After the summer break the psychologicial "game" of grit recommences in earnest, with hard repeats and extreme cutting-edge new routes. As tradition has it, using only natural gear and, more often than not, marginal placements... not to be repeated.

Young Simon Moore opened the ball last week with his French Kiss at Burbage South. Protected by a skyhook and an old peg, the route could weigh in at E8 6c, similar in grade to Sam Whittaker's recent creation which takes the incredible direct line of Appointment with Fear at Wimberry.

And talking of incredible lines: Pete Hurley has repeated The New Statesman at Ilkley. Climbed way back in 1988 by John Dunne, this masterpiece has only been repeated twice in its 15 year history, at the hands of Seb Grieve and Neil Bentley. Rumour has it that it may have been undergraded - making it the first E9 in England at the time?

But hard grit is not just a game for the select British, as recent trips from across the channel have proven. Worth mentioning is Espen Samuelsen, who has repeated Master's Edge (E7 6c) at Millstone. Without trying the route previously on toprope (as is often the case, and classed headpointing) the Norwegian started from the ground up, reaching the top of the arete after three falls. Incredible, also because this is Samuelsen's second route on grit!

And worth mentioning is Tobias Wolf, who has provided much food for thought with his fast ascents of Toploader (E7 6c), Jumping on a Beetle (E7 6c), Masters Edge (E7 6c), End of the Affair (E8 6c), Gaia (E8 6c)... the list is a long one. Falling off Rays Roof (E7 6c) the German broke his wrist. Thankfully it was nothing more serious - get better soon!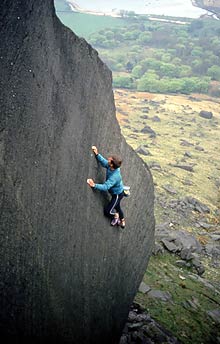 Same place, different grade: Guy Maddox stepping it out on Sickbay Shuffle, E2 5c, Wimberry
(ph Planetmountain.com)