By now 'The big' and 'Luigi' are counting the days before they depart for America on their 'Pig Brothers Tour' across some of the hardest crags and routes in the States. Yes, we're talking about François 'The Big' Legrand and Yuji 'Luigi' Hirayama, undisputed sports climbing champions both in the competition circuit and outdoors, who are now heading to the U.S to live out what must be every climber's dream on the road. Fueled by a sane friendship, desire to perform and have fun.



The tour gets underway in just over a week's time and passes through frenetic Las Vegas to the atmospheric deep West in Colorado via the National Parks in California to green Oregon and mythical Utah. Obligatory stops on their way will be Virgin River Gorge, Mount Charleston, Mount Potosi (Las Vegas, Nevada), Smith Rocks (Bend, Oregon), American Fork (Salt Lake City, Utah), The Fortress and Rifle (Rifle City).
But they also plan to do some hard bouldering in places such as Yosemite's Camp 4, Little Cotton Wood Canyon and Joe's Valley. The two hope to climb some of the hardest routes on offer, including Necessary Evil (5.14c/8c+) V.R.G, Just Do It (5.14c /8c+) at Smith Rocks and Kryptonite 5.14d/9a at The Fortress, as well as Yosemite classics such as Ron's Crack 5.14b.



All of this packed into a two-month, 10000km trip on the road where the two will have the chance to meet up with some of the biggest names in the American climbing scene including, amongst others, Chris Sharma, Ron Kauk, Lynn Hill, Jim Karn, Scott Franklin, Boone Speed, Tommy Caldwell, Christian Griffith, Robyn Erbesfield, Joe Brooks, Jason Campbell, Chris Lindner and the Frenchman Didier Raboutou and the Englishman Ben Moon. So this journey into America's vertical world is also an immersion into the American culture and way of life. Journeys always leave their mark, who knows how this one will influence François and Yuji…

We'll know soon. In the meantime, whilst awaiting their return to the competition circuit, we wish them a great trip and … fantastic climbing!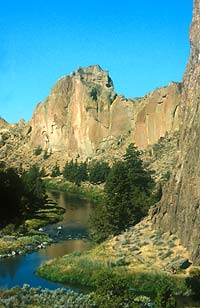 Smith Rocks (Bend - Oregon)
Photo PlanetMountain.com





Sponsor 'Pig Brothers Tour' by François Legrand and Yuji Hirayama

The North Face U.S.A
The North Face Europe,
The North Face Japan
Beal
Oakley U.S.A
Powerbar U.S.A
Nissan
Japan