The Polish attempt to climb Nanga Parbat in winter has been called off and the the entire team is safely back in base camp. The expedition, which reached Base Camp at the start of December and climbed for 38 days, succeeded in reaching a highpoint of circa 6000m along the Schell Route before being forced to retreat due to "severe winter weather".

Expedition leader Krzysztof Wielicki wrote the following succint, but enlightening report on his website "we ascended 3300m up the mountain. Severe winter weather allowed our small team to climb the difficult terrain up to the altitude of 6000m – above there was only freezing hell. Temperature below -30°C and winds blowing at 70-100 kph. In such conditions we could climb no longer than 4 hours a day. The progress of the expedition slowed down, energy of our teams was getting exhausted. We fixed more than 4 kilometres of ropes (!), which cost us a lot of strength. Almost each of us went up the mountain at least 5 times – these demanding climbs exhausted us physically and psychologically."

The decision to abandon the ascent was not easy but, as Wielicki quite rightly states, "for years Polish Himalayan expeditions have always returned with the summit or without it, but always with all their participants. We want to continue this tradition."


Himountain Nanga Parbat Winter Expedition 2006-2007
Krzysztof Wielicki: has summited all 14 8000m peaks, including 1st winter ascent of Everest, Lhotse and Kangchenjunga.

Jan Szulc: expedition leader of 1st winter asctent of Shisha Pangma, and K2 winter attempt

Jacek Berbeka: has summited 4 8000m peaks

Artur Hajzer: has summited 4 8000m peaks, including 1st winter ascent of Annapurna

Jacek Jawien: a member in K2 and Shisha Pagma winter expeditions.

Przemyslaw Lozinski: first Himalayan giant experience

Krzysztof Tarasewicz: has summited 3 8000m peaks

Dariusz Zaluski: has summited 4 8000m peaks, including winter attempts on K2, Makalu, Nanga Parbat and Shisha Pagma.

Robert Szymczak: Himalayan doctor

Tommy Heinrich (Australia): has summited Everest; photographer

Ghulam Rasool (Pakistan): has summited Gasherbrum II twice

Hassan Sadpara (Pakistan): has summited all 5 8000ers in Pakistan, including K2 without oxygen.




Nanga Parbat (8125m)
Himalaya, Kashmir – Pakistan.

Nanga Parbat was first climbed on 3 July 1953 by the Austrian Hermann Buhl (member of the Austrian/German expedition led by Herrligkoffer). This was the third 8000m peak to be climbed and Buhl astounded the mountaineering world with his daring solo ascent.

Nanga Parbat isn't the only mountain to not have been ascended in winter: K2, Makalu, Broad Peak, GI and GII all still await their first cold ascent.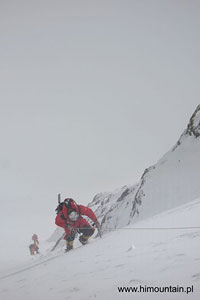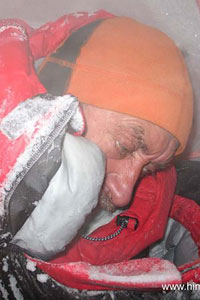 Top: Decending to Base Camp early on
Bottom: Wielicki in Camp 2.
All photos www.himountain.eu