Winter ascent in the Thien Shan mountain range - news from Simone Moro
In the Thien Shan mountain range, Simone Moro, Denis Urubko and Maksut Jumayev ascended Mramornayestina (6400m). A second group of alpinists from Kazakistan, Kirghistan and Uzbekistan led by Rinat Khaibullin successully completed the Karli Tau - Marble Wa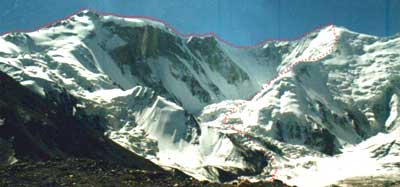 The power of mobile phones! We contacted Simone Moro to get some information about the exceedingly strong mountaineers from the ex-U.R.S.S, whom Moro rates highly. And, as luck would have it, we reached him in Kazakistan, where he had just finished a winter ascent of Mramornayestina (6400m), situated in the Thien Shan region on the border between Kazakistan and Kirghizistan. This is the first winter ascent by a Westerner on that mountain chain, and we immediately asked him to send us some details of his ascent. Via email though.




"As promised here I am in front a Cyrillic keyboard, with our alphabet printed on top. As I said on the phone I managed to climb Mramornayestina (6400m) together with Denis Urubko and Maksut Jumayev. Winters here in the Thien Shan are colder and more severe compared to those in the Himalaya and Karakorum. No Westener has ever climbed any of the 1000's of high altitude peaks in this fantastic mountain chain and I can't hide my pride and honour at having been the first. In effect I really found out what it means to make in a winter ascent in these parts. The thermometer on my watch only registers down to -20 °C… and it never registered anything other than this. Which means that it was always colder - we reckon about -30 °C, since our spittle froze immediately.

I was part of an expedition composed of mountaineers from Kazakistan, Kirghistan and Uzbekistan, who had all trained specifically for this ascent. The group was divided into two teams and the first 7 mountaineers attempted the Karli Tau - Marble Wall (6400m) traverse. I was a member of the second group of eight, heading for the S. Pillar of Marble Wall, since I had not acclimatised. While a retreat from the Pillar was an option, it would not have been possible to interrupt the traverse.




On 6 March, just 7 days after landing in Almaty (I really suffered because of the altitude), Denis Urubko, Maksut Jumayev and I reached the summit of Mramornayestina (6400m). We climbed past cornices, wind blown crests, mixed terrain and green and compact ice and our difficult and precarious descent was marked by these conditions.

We climbed the route in extremely fast alpine style - just two days from Base Camp at 3100m to the summit at 6400m and back again, including the walk in and out of the 13km long valley.

The team attempting the Karli Tau - Marble Wall traverse was successful, too. Led by Rinat Khaibullin (who has ascended the S. Face of Lhotse), the group left and arrived in tact. Some members have light frostbite and look exhausted, but they're all happy.

The nicest compliment I heard was at the end of the ascent, when they said: "Simone, you've got the same mentality as mountaineers from the East…"

Now I'll return to Italy and prepare for my upcoiming project, Everest-Lhotse...

Best regards, Simone Moro"



  Projects 2001

  "My Everest" by Simone Moro

  Simone Moro interview

photos from top to bottom: Karli Tau - Marble Wall; Simone Moro; Denis Urubko.
(photos arch. S. Moro)

Share