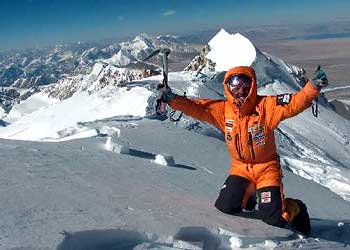 They did it! At 13.15 last Friday Simone Moro and Piotr Morawski reached the main summit of Shisha Pangma (8027m), climbing without supplementary oxygen and high altitude porters. This is the first winter ascent of the 14th highest mountain in the world and the eighth 8000er to be climbed in winter. This is a great achievement for Moro and Morawski and for their Polish teammates Jan Szulc, Dariusz Zaluski, Jacek Jawien.

The summit is the crowning moment of a two year project: last year's attempt was aborted at 7700m, but this year the expedition managed to push right up to the summit. This success is also the first time that an Italian mountaineer succeeds on a first 8000+ winter ascent, or rather, it is the first time that a non Polish climber achieves such a startling result.

The expedition followed the Yugoslavian route on the extreme right of the severe south face. This reaches the crest at about 7300-7400 meters and then follows this left to the summit. As was to be expected, the expedition encountered immense difficulties, fighting against the ever present cold and high winds.

The team arrived at Base Camp on 24 December and after having installed ABC fought hard to establish Camp 1 at 6600m, the only camp on the entire face. The next objective was to install Camp 2 along the crest for the long traverse to the summit. After spending a night at Camp 1 Moro and Morawski climbed up friable rock (Grade III and IV) and reached the crest at circa 7400m where on 13/01/2005 they installed Camp 2.

On 14 January the duo seized the opportunity and rushed for the summit: Moro and Morawski left Camp 2 at 8.00 Tibet time, and after 5.30 hours swiftly reached the summit. They encountered intense cold and high winds along the entire crest which was a times difficult and exposed. At 15.30 they began their return to Camp 2, from where they sent their summit message.

Mission completed. One more brick has been lain in the history of these Himalayan giants: the first winter ascent of Shisha Pangma.


Simone Moro from Camp 2, Shisha Pangma
from www.simonemoro.it

14.01.2005. Summit, summit, summit!!! At 13:15 Piotr at I were on the true summit of Shisha Pangma at 8027 meters. Impossible wind and polar cold really put us to the test. To be the first person in the world to climb Shisha in winter together with Piotr makes me really happy, and being the first non-Polish mountaineer to make a 8000+ winter first ascent is an honourable achievement for Italian mountaineering. This was missing in its history. Ciao
Simone


SHISHA PANGMA - 2004-2005 Winter Expedition
From left to tight: Simone Moro (ITA), Jan Szulc (POL), Dariusz Zaluski (POL), Jacek Jawien (POL), Piotr Morawski (POL).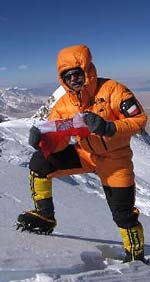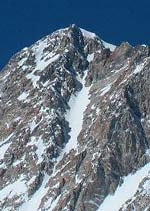 Shisha Pangma
(Gosainthan) 8013m
14th highest mountain in the world
Position: Himalaya, Tibet
First ascent: Chinese expedition, 2 May 1964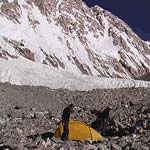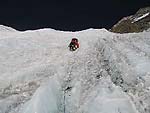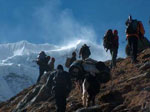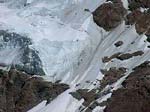 Top: Piotr Morawski and Simone Moro on the summit of Shisha.
Above. some moments during the 2005 expedition
(archivio Simone Moro)