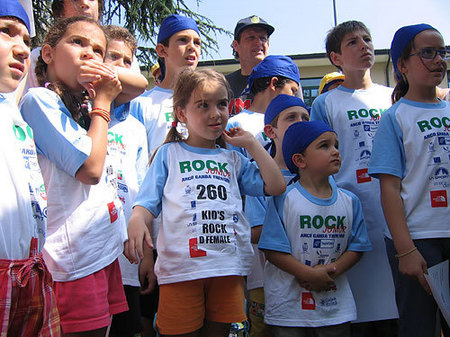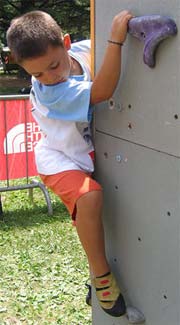 Arco 18/06/2006

The fifth edition of the Rock Junior which took place in Arco on Saturday 17 and Sunday 18 June proved to be an authentic climbing celebration for the young as hundreds of children played this vertical game, non-stop, for two entire fun-packed days. The most important international youth climbing festival, organised as always by the Rock Master Association, clearly belonged to the future generation.

Just like every year climbers travelled to Arco from as far a field as Russia and Great Britain, Slovenia and Austria, the Czech Republic, Hungary, Germany, Luxemburg and, naturally, Italy. A fantastic "populous" aged 5-13, united by this vertical passion, which gathered together at the Climbing Stadium to climb and discover nature at the nearby rocky habitat. But there was more in store for them: they climbed the bouncy castles and across the great Rock Junior vertical park and naturally competed in the Kid's Rock and the Family Rock relay event.

And of course they took part in the Under 14 Cup, the international competition for the best European youth squads which took place on the legendary Rock Master wall, which hosts the oldest and most spectacular sports climbing competition. Many of these budding athletes will no doubt have dreamt of competing here in the future, and for some of them reality could be a lot closer than they might think. It comes as no surprise therefore that the Under 14 Cup saw some true rising stars competing on the routes set by Donato Lella and Leonardo Di Marino, two route setters who, unsurprisingly, are not only the official Rock Master route setters but also route setters for many of the most important international climbing competitions worldwide.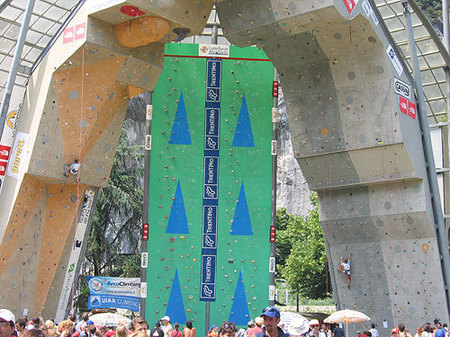 All three female competitions turned out beautifully and all three needed a fought-out Superfinal to produce a clear winner. Category "A" ('93 / '94) was won by Katharina Poll from Austria ahead of her teammate Elisabeth Gruebler. Category B ('95 / '96) was won by Iva Vejmolova from the Czech Republic ahead of Karoline Sinnhuber from Austria, while the youngest Category C ('97 / '99),was won by Miriam Martini from Italy, who beat Hannah Schubert from Austria.

Max Rudigier won the male A Category by on-sighting both routes, and the Austrian beat the Italians Stefano Ghisolfi and Marcello Bombardi, 2nd and 3rd respectively. Andràs Kiraly climbed highest of all in Category B and he beat Hans Moritz from Germany and Markus Ladurner from Italy. Category C was won by Jakub Svub from Slovenia, ahead of Ruben Firnenburg and Randy Roby, both from Germany.

The Speed event was won once again by Max Rudigier (Category A) and Jakub Svub (Category C) while the fastest of Category B was Hans Moritz. The Category A female event was won by Pia Mechik from Austria ahead of Anna Gislimberti from Italy. Margherita Dallabrida and Miriam Martini, both from Italy, won their categories B and C respectively.

These young and even younger athletes will no doubt write sport climbing history one day. In the meantime though one thing is certain: they were all protagonists of this fantastic Rock Junior 2006. From the young champions of the spectacular Under 14 Cup to those children who competed for the very first time this weekend in the Kid's Rock or climbed and discovered the Colodri's rocky secrets: this was their weekend. There were thousands here at Arco this weekend, all were happy to be here, to climb and compete together. This is without a doubt what the Rock Junior is all about and its best and most beautiful aspect.


The Rock Junior Team
Rock Junior is organised by the Rock Master Association with the indispensable support of: Arco Town Council, Autonomous Province of Trento, the Region of Trentino Alto Adige, InGarda, Cassa Rurale Alto Garda, Azienda Municipalizzata Sviluppo di Arco, La Sportiva, Cassin, The North Face, Vertical Sport, Sint Roc & Ecogrip, Pareti, PlanetMountain.com.

The collaboration and support of the following professional bodies is fundamental in guaranteeing the safety of the participants: the Mountain rescue and Guardia di Finanza, Centro Addestramento Alpino della Polizia, Soccorso Alpino della SAT di Arco, della Scuola di Alpinismo e del Gruppo Alpinismo Giovanile della SAT di Arco, the Friends of Arco Mountain Guides and the ArcoClimbing Sports Climbing Association.

A special thanks for the successful outcome goes to the route setters Leonardo Di Marino and Donato Lella and to Andrea Gris from Radio Cortina and Saskia Engelhardt, the insatiable speakers who animated these two 2006 Rock Junior days.



Rock Junior 2006