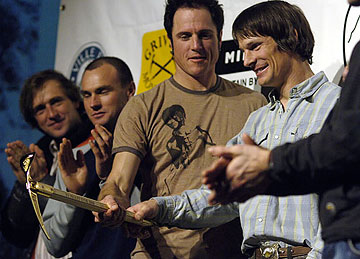 It was just a brief moment that seemed to contain and explain it all: Steve House smiled (his eyes truly shone!) and together with Vincent Anderson he caressed the Piolet d'or 2005. But this was just a brief instant. Immediately afterwards Steve and Vincent convinced and convincingly dedicated the golden ice axe to alpine style climbing. For them this mountaineering Oscar, which they received for the immense outing up the largest face in the world, Nanga Parbat's legendary Rupal Face, belongs to alpine style and to those who interpret it on the highest and hardest mountains in the world. In short, it's an award dedicated to what they consider the best and purest spirit to embark upon and adventure up the earth's greatest faces.

All other nominees were on stage in Grenoble to applaud the two North Americans - or rather, almost all, seeing that Stefan Glowacz was absent due to health reasons, as were Ermanno Salvaterra, Rolando Garibotti and Alessando Beltrami for reasons which we shall explain shortly. House and Anderson were joined by the Kazak mountaineers Denis Urubko and Serguey Samoilov with their route up the immense and unexplored West Face of Broad Peak, by Swissman Ueli Steck with his solo ascents on Cholatse, Tawoche and Ama Dablam. And the Frenchmen Patrick Wagnon, Christian Trommsdorf and Yannick Graziani were there too, for their enormous traverse on the two untouched summits of Chomo Lonzo, as was Swissman Robert Jasper who, together with Glowacz, dodged one Patagonian storm from the next to complete the "missile" route up the immense Murrallon face.

All these mountaineers believe in alpine style, all climb in this manner. And all were interpreters of great alpine style ascents last year, that's the reason why they were here. Needless to say House and Anderson's "winners" dedication went first and foremost to all of them on stage. Just like this dedication went to all other mountaineers who have had this dream of adventure, pure, hard and above all in a single push from the base to the summit of the hardest and/or highest mountains in the world. One single, immense voyage, or trip, increasingly lightweight, with increasingly sparring means, increasingly more difficult but, also, increasingly interior.




This is the final image of the 15th Piolet d'or. A beautiful image, definitely, but on its own it does not suffice to explain it all. It certainly fails to explain the painful moment, almost loss, at the start of the show when images of JC Lafaille flashed across the screen. Twelve months ago Jean Christophe was on that Piolet d'or stage. Now he is lost forever between Makalu's cold embrace, the 8000er which until just a few days ago he ascended, solo, towards its first ever winter ascent. The wound was so recent that the great and truly numerous Piolet crowd found it hard to break the silence and restart the evening. It was as if, for an extremely long fraction of a second, all had understood the dark side of mountaineering, terrible and inexplicable, yet so close and true, of risk and the end.

But it isn't only this relativity of mountaineering which, just as for life, explains its essence. Just like this prestigious award certainly cannot, and certainly does not want to, include all facets of mountaineering. This borderline world which, never before so different yet never before so equal, once again seems to elude from a standard agreed norm, from any comparisons and measures, and therefore also from creating a ranking of the most beautiful and hardest route, and at attempting to determine who is the strongest mountaineer.

Everyone knew this to be the case even before the show got on the road. From the mountaineers to the organisers themselves, no one doubted the impossibility of comparing such diverse experiences. It didn't come about by chance therefore that Salvaterra, Garibotti and Beltrami, nominated for their great route up the east, west and north faces of Cerro Torre, thanked for their nomination yet declined the invitation due to incompatibly of any comparison whatsoever. There is no one single results list that includes all different disciplines in the Olympics was the line of thought. And, talking of which, it almost slipped people's thoughts that whilst the mountaineering Oscars were being awarded, less than 80 km away Turin was celebrating the start of the Olympic Games. Is this a sign of the reconfirmed separation of mountaineering from all the rest, or simply a sign that nothing ever manages to stop the French?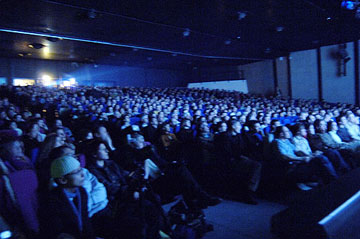 What is certainly true is that mountaineering has always been considered different, even if the "what" and "how" seem to elude a sure definition. Perhaps its because of this that no one stigmatised the choice of the Italians on Cerro Torre. On the contrary. The patron of Montagne magazine, the French publication which organises the event, affirmed that this gentle refusal was allowed, that it was included in the spirit of the Piolet whose aim seems increasingly to be that of reflecting on (and celebrating) mountaineering rather than finding a maximum hero. Already in the pre-evening backstage dedicated to interviews with the journalists all affirmed that the routes (and experiences), just like the six exploits chosen as last year's best, were so different as to be incomparable. The Leitmotiv was that all were important and unique.

Having said that, the prize awarded to House and Anderson's great journey up the pillar of Nanga Parbat's Rupal Face was in the air prior to the show and, in the end, their victory seemed to find complete agreement amongst the ranks. Even Urubko and Samilov, with their extraordinary adventure and first-ever route up the mysterious south flank of Broad Peak seemed not to take things to heart. Yet their feat was extremely similar to that of Steve and Vincent on Nanga Parbat. Both summited after days spent out on the wall, both explored new terrain (the Kazak climbers even managed a first ascent up the face) and both resolved a problem on one of the 14 highest mountains in the world. Both, in short, represent the essence, or better still the maniphesto, of that alpine style up the highest faces ii the world dreamed (and carried out) by Hermann Buhl almost 60 years ago. And why therefore did all seem to agree, were all so convinced with the award. Including the spectators who, this time round, agreed with the jury?

One could think that it was a sort of "reparation" to the award 12 months ago which saw the golden ice axe go to the Russian team for their first ascent on Jannu (a symbol of the "old" and "laborious" way on conquesting an impossible mountain) while House had to "make do" with the Spectators award for his "lightweight" solo in K7. But it would be reductive to consider just this. The sensation was that this was all about a path, a unicom which united these 12 months with a sort of maturation and affirmation of a climbing style and thought which unites the majority of mountaineers. Perhaps personal expectations and assertions, waits and anxieties were swept aside for once (and only for a second) by this joint vision synathised by House and Anderson's dedication.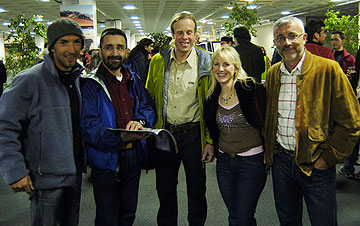 For a brief moment probably all breathed a certain lightness, watching the others with respect. And all, perhaps, dreamt the same dream. And felt the sense of special belonging which renders all the same, despite their differences. The synthesis of this "lightness" was given by the beautiful jury motivations read by its President Stephen Venables. In perfect Anglo-French Venables held all in high esteem, concentrating on their greatness, without hiding doubts and interpreting with exemplary British humour the small grand expectations of the Piolet and those of the mountaineers themselves.

"You stole my dream…" a smiling Venables told the French Chomo Lonzo team. And it was no chance then that "dream" (it all its various translations: reve, dream, vision, journey, trip) was the most recurring word in the mountaineers interviews of this Piolet 2005, for whom the difficulties (ihe grades of the routes) seemed not to be the most important aspect. It was the dreams (visions) themselves that were the true masters. Like those that could be read in Steve's slightly crazy eyes, like those one could perceive in Vince's sincere profile, those which shone in Robert's smile, in Serguey's silence, in Deni's unexpected stage verve and in those slightly serious eyes of Patrick, Christian and Yannick.

Dreams therefore are perhaps the true sense to it all (the spark to the flame?). Dreams which, as such, can be found in all of us. Such as Ueli's recurring dream when his head rests on his pillow: he sees himself on a wall at 4000m, on an 8000m mountain.... where he's climbing alone and extremely well, enjoying this perfection. Yes, we are united be a vision, this passion which great and less great mountaineers share, which we hope to re-find at the next Piolet, or on the next mountain.


Vinicio Stefanello


I would like to thanks all mountaineers of the Piolet d'or 2005 for their suggestions "stole", and interpreted confusedly, in this report. And I would like to thank Giulio Malfer, constant and companion of this whirlwind tour, and interpreter of the visions that accompany this article. I would like to extend a sincere thanks to my journey and chat companions through and beyond the Mont Blanc tunnel: great Betta and Gioacchino "philosopher" Gobbi (of the famous Grivel, not by chance the company which produces the "Goldenb ice axe"). And, furthermore, I would like to thank Roberto Mantovani (Rivista della montagna), Linda Cottino (ALP), Pietro Giglio and Oriana Pecchio (RAI Valle d'Aosta) who represented the task force of the Italian specialised media. And, last but not least, a sincere thanks goes to Valery Babanov, who just happens to have win of 2 Piolet d'or and the stylist/mountaineer/journalist Im Duc Young. Both joined me for the Piolet lottery: I bet a beer with both of them, once on Urubko and Samilov and once on House and Anderson, aiming obviously to break equal. I didn't win and I didn't lose anything, also because the beers were on the house! This too perhaps explains a whole lot about the Piolet... see you there next time!

Photos of the Piolet d'or 2005. Photos by Giulio Malfer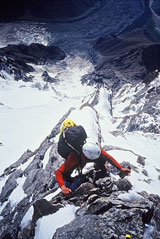 PIOLET D'OR 2005 PREMIO DELLA GIURIA
NANGA PARBAT, Rupal. 8125m, Pakistan
New route up Central Pillar for Steve House and Vince Anderson (USA)
Length: 4100m
Grade: WI4 M5, 5.9
Alpine Style. Ascent 6 days, descent 2 days via Messner route.
House and Anderson did not make use of the in-situ fixed ropes down the Messner route.

PIOLET D'OR 2005 SPECTATORS AWARD
NANGA PARBAT, Rupal. 8125m, Pakistan
New route up Central Pillar for Steve House and Vince Anderson (USA)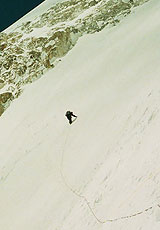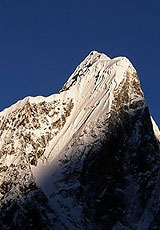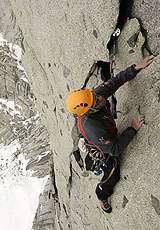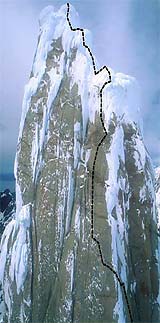 ALTRI NOMINATI PIOLET D'OR 2005
BROAD PEAK 8047m, Pakistan
new route on S Face for Denis Urubko and Serguey Samoilov (Kazakhistan)
Length: 2500m
Grade: 6b, ice 75°
Alpine style. Ascent 6 days, descent 2 days via the normal route.

CHOMO LONZO (7500m), Tibet.
Patrick Wagnon, Christian Trommsdorf, Yannick Graziani (FRA)
Traverse North - Central summit
Length: 1500m
Grade: ED
Two unclimbed summits in alpine style with some fixed routes.

KHUMBU EXPRESS, Nepal.
Ueli Steck (CH).
Solo enchainment: n Face of Cholatse (6440m) 1600m route, M6; E Face of Tawoche (6505m) 1500m route; NW Face of Ama Dablam (up to 5900m).

CERRO MURALLON, Patagonia
N Face for Robert Jasper and Stefan Glowacz (GER).
27 pitches, max 7c+, A2 and M4.
2nd attempt (1st in 2004). Fixed ropes on first 10 pitches.

CERRO TORRE, Patagonia
New route for Ermanno Salvaterra e Alessandro Beltrami (ITA), Rolando Garibotti (ITA) E, W and N Face.
Alpine Style. grade 6b+ and A1.

PIOLET D'OR JURY 2005
- Stephen Venables (GB) president
- Pierre Hofmann (CH) GHM
- A. Bolotov and M. Mikhaïlov (RUS) winner of Piolet d'or 2004 for the ascent of Jannu
- Mike "Twid" Turner (GB)
- Silvo Karo (SLO) Mountain wilderness international
- François Marsigny (FRA)
- Im Duc Young (KOR)
- Guy Chaumereuil (FRA) founder of the Piolet d'or
- Editors of Montagnes magazine

Photos: Nanga Parbat (Steve House); Chomo Lonzo (Wagnon, Trommsdorf, Graziani) Broad Peak (Urubko, Samilov); Khumbu Express (Uli Steck); Cerro Murallon (Glowacz, Jasper), Cerro Torre (Salvaterra, Garibotti, Beltrami)