Despite difficult weather conditions Harald Berger managed to redpoint Beat Kammerlander's classic "Silbergeier", the multi-pitch 8b+ located in the Rätikon mountain range, Switzerland.

In doing so the Austrian completed the so-called trilogy, the ascents of three of the hardest multi-pitch routes in the Alps: "Silbergeier" 8b+ (Beat Kammerlander), "End of silence" 8b+ (Thomas Huber) and "Kaisers neue Kleider" 8b+ (Stefan Glowacz). Berger, who his best known his domination of the ice climbing competition circuit (Difficulty and Boulder World Champion 2005 & 2004, winner of the Ice World Cup 2003) is now the second person to have sent these three routes after Stefan Glowacz (2001), but by the sounds of things, this could be just the beginning of a never-ending story…


Silbergeier- The End of a Trilogy or Beginning of a never-ending Story
by Harald Berger
Although the weather was stubborn as every year, I was able to take advantage of good conditions between 27. August and 5. September to complete the last puzzle of the so-called "Trilogy".

After redpointing "The End of Silence", 11 pitches up to 8b, and "Des Kaisers neue Kleider", 9 pitches up to 8b+, in the last two summers, I was pretty psyched to try Beat Kammerlander's classic route "Silbergeier", 6 pitches up to 8b+.

As early as August rain and snow were giving me a hard time and I had to spend more time in my new indoor bouldering wall in Salzburg, than I really wanted to. At my first try in the route I had a pretty hard time with the razor-sharp holds, ice cold fingers and some big whippers. Additionally I broke a very important undercling in the 5 pitch, which added another pretty hard sequence apart from the crux.

Indoor bouldering and alpine sports climbing are two totally different stories! Painfully I had to learn this lesson once again. In this vertical and slabby world I had to convince my body to work and move in an absolutely other way. Consequently I tried hard to find a possible solution for the missing hold, but I was able to do the single move just every 7th time. Honestly, I didn´t see a chance to combine all the moves, especially not after all the other quite hard pitches before.

After an excellent dinner, a lot of red wine and some nice talk with Beat Kammerlander and his girlfriend the day after had to be a restday. This probably relaxed my thoughts enough to find a new access to the right solution. This time I rappeled from the top and focused just on the crux. A good foothold next to my right ear was the road to success! From that point on, everything turned positive. Now my goal was to explain my body not to break down after the first pitch (40m 8b) and to convince my shoes to keep tension, in spite of +40°C on this south-facing wall.

To protect my skin I trained all day with tape on my fingertips, which was a big obstacle, because all the pitches, except the first one, are not very steep.
All in all after 8 days in this fantastic wall, I felt ready for my first serious go. Luckily I met David Lama on the base of the wall. He is 15 years old and definitely the best climbing talent I've ever seen in my life! He was psyched immediately to join me the day after.

Although the sun was burning on this day, I had a perfect run until the 5th pitch. I took a little rest at the comfortable ledge before the pitch with the crux. It was still very hot, but I felt fit enough to crank the following pitch. But I couldn't believe it, my foot slipped of a small hold, just 1 cm before I reached the final good crack! While taking a big whipper I had time enough to realize, how close I had been and how far away I was now.

One hour rest on the ledge was good, but since the sun was still burning, I had a hard time to recover. Tired, but still psyched, I started again. Everything felt hard and the pain in my arms was constantly present. I don't remember exactly, but somehow I managed to focus my last power and reached the final edge. The last pitch is still 8a, but I was sure not to fall, 'cause I knew everything by heart. Meanwhile David did a very impressing job. With only 5 times resting, he flashed all the sequences as second.

From my point of view, thinking about the "Trilogie", it's also very important to mention, that Beat Kammerlander realized the route "Unendliche Geschichte" (1991) three years earlier, which was probably the first 8b+ multi-pitch in the Alps. Another question is the grading of Silbergeier. My suggestion is 8b, 7c+, 8a+, 7a+, 8b+, 7c+/8a and by the way, it's really worth climbing this piece of rock.

Hari

Photos: Harald Berger redpointing Silbergeier 8b+, Rätikon. Photo Hermann Erber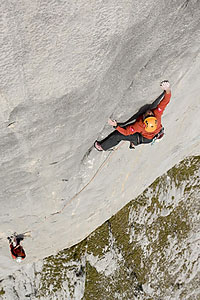 Silbergeier 8b+
Rätikon, Switzerland
Beat Kammerlander, 1994
P1) 8b, P2) 7c+, P3) 8a+, P4) 7a+, P5) 8b+, P6) 7c+/8a.


End of silence 8b+
Berchtesgadener Alpen, Germany
Thomas Huber, 1994
P1) 7a+, P2) 6a, P3) 6c+, P4) 6c, P5) 7b+, P6) 7c+, P7) 7b+, P8) 8b, P9) 8b+, P10) 7c+, P11) 7a+


Kaisers neue Kleider 8b+
Wilder Kaiser, Austria
Stefan Glowacz, 1994
P1) 7a, P2) 7c , P3) 8b, P4) 7b+, P5) 8b+, P6) 8a, P7) 6b, P8) 8b+, P9) 6c.
Links PlanetMountain
Portfolio
News archive Berger
End of silence for Glowacz

Links www
www.outdoor-foto.at