Gravity seems to be losing much of its attraction these days. Testament to this are the staggering number of recent cutting edge ascents: here's a short resume of what's been going up, and where.


Patxi Usobiaga 8c on-sight
Patxi Usobiaga from Spain becomes the third person in the world to on-sight an 8c, after Yuji Hirayama (White Zombie, Baltzola Cave) and Tomas Mrazek (Pata Negra, Rodellar). The Spaniard on-sighted 'Gaua' 8c at Lezain (N. Spain), and completed his amazing trip with lightening ascents of 'Pistolaren mintzoa' 8c+ and 'Satán' 8b+ (both 2nd go) and 'Beldurra' 8a+ (on-sight).

Action Directe repeats
After reporting about Rich Simpson's sixth ascent of Wolfgang Güllich's Action Direct, the all-time classic 9a received a further two ascents in a week by Dai Koyamada from Japan and local Markus Bock from Germany.

Fred Rouhling 8c f.a.
Fred Rouhling from France continues forging new routes: this time he has made the first ascent of "La voie du charpentier" at Allonzier la caille, Haute-Savoie, France. Graded 8c, the fingery route is 18m long.

Martina Cufar 8a+ on-sight
On a recent trip to Rodellar, Spain Martina Cufar from Slovenia on-sighted 'Paieda' 8a+ and a string on 8a's.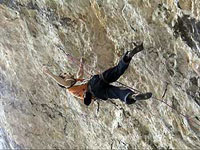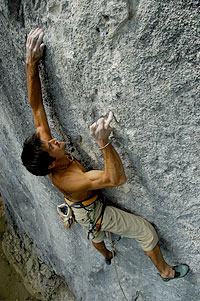 Photo top: Patxi Usobiaga on-sighting Gaua 8c
Photo bottom: Fred Rouhling making the first ascent of La voie du charpentier 8c .
photo Fredéric Moix