As usual, when the temperatures drop in the Valley, the routes hot up. And things couldn't be hotter than the Nose climbed free by Beth Rodden and Tommy Caldwell! Here's a brief news roundup of what's been breaking news in Yosemite over the past month:

The Nose climbed free by Caldwell and Rodden
The big news just in is of Tommy Caldwell's sub-12 hour ascent of the Nose. According to climbing.com, Caldwell set off just after midnight together with his wife Beth Rodden, who jumared each pitch while he rested. Caldwell fell only once on the 31 pitches, on the 5.14a Changing Corners pitch above the infamous Great Roof. This was Caldwell's second free ascent of the line in less than a week, as he had climbed the line with his wife just two days previously. Amazing!
These repeats are significant since, as all presumably know, the first free ascent was carried out by Lynn Hill way back in 1993. In 1994 Hill took things to their logical conclusion, climbing the Nose in a day. Since then the route has been repeated only once, in 1998 by American Scott Burke who however toproped the Great Roof pitch as it was wet at the time. No doubt we'll be hearing more of these incredible ascents soon. In the meantime, check The Nose according to Lynn Hill, and listen to her comments here.

Favresse lured by L'Appât
Climbing.com reports of a major new route to the right of Yosemite Falls, L'Appât. This 12 pitch line was first ascend by the 25 year old Belgian Nicolas Favresse, who has suggested a grade of (VI 5.13a). Last year Favresse repeated Yosemite valley classics such as The Rostrum, Astroman and The Crucifix, prior to repeating Free Rider on El Cap (VI 5.12d), onsighting 35 of the 36 pitches.
Full report on www.climbing.com

No holding Houlding
In mid-September, Leo Houlding from England onsighted Half Dome's Regular Northwest Face in a day. He then moved onto El Capitan, where he climbed Alex Huber Freerider (VI - 5.12d) over a two day period, falling only once on the 12d boulder problem pitch before freeing this and storming to the top.

Yosemite Face Lift - a.k.a. Lead by example
Over a four day period last week, over six hundred volunteers teamed up as part of the "Yosemite Face Lift" and collected 3500 kilos of trash from Yosemite Valley and the surrounding roads. As climbing Ranger Lincoln Else states on www.supertopo.com: "that's absolutely awesome. Unbelievable. Downright incredible. Everyone is blown away... The impact from this event will be gigantic. Not only have we (Yosemite's climbing comunity) left Yosemite cleaner, we've stepped up in cooperation with others who care about this place and led by example. This event was simple, no strings attached, no spin, no hype, just good old work cleaning up a place we all love. Hopefully this will inspire everyone (ourselves included) to keep up the good work, to continue putting action behind our words."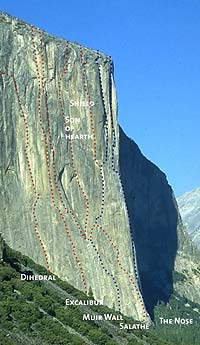 Photo: El Capitan and the Nose on the skyline (ph F. Piardi)