The Italians Maurizio Oviglia, Rolando Larcher and Michele Paissan have just returned from a brief expedition to Turkey, where they climbed in the Ala Daglar mountain chain in southern Anatolia.

After exploring the mountains at the start of July the trio set their sights on Demirkazik, "the wall of the dreams" and established base camp at 2900m. The next ten days were spent establishing a route on the 650m face, which tops out at 3756m. They freed the line in one push on 17 July, grading "Uc Muz" 8a max, 7b obligatory.

After a brief rest they then made what they believe to be the fourth repeat (in the last ten years) of the French route on the Parmakkaya obelisk, before setting up in just two days another new route on the east face, "Mezza luna nascente", 270m, 7c, 7a+ obligatory.

Check out their full report below:


ALA DAGLAR EXPEDITION
(Southern Anatolia, Turkey)
members: Rolando Larcher (CAAI), Maurizio Oviglia (CAAI), Michele Paissan
text by Maurizio Oviglia

As sometimes happens in Jazz, where three people from completely different backgrounds join forces to form a trio, with the aim of playing just one specific type of music... so too we found ourselves on the Atlas mountain with the great prospective of spending 25 days together on the Taghia walls, seeing what would come of it. From that experience ensued a route which, according to Arnaud Petit (the only repeater), was one of the best that he had ever climbed. Two years had passed since then and everyone of us had been taken in by their own projects.

But when music had to be played the trio didn't hesitate to regroup, in search of new terrains to express itself. We are interested in setting up modern hard routes, in unknown areas, where you have to locate an objective, perhaps without knowing what the rock will be like, whether there will be rock at all... improvisation is the name of the game.

After a Morocco slideshow in Turin's Monte dei Capuccini room I was approached by Renzo Barbiè, a passionate ski-mountaineerer and globetrotter, who confided "I know of a place like Taghia in Turkey, I've been skiing there three times... I'll sent you some photos by email... and then we'll meet up here again and you'll show me the photos of the new routes you'll establish."

You can immagine the rest, at the start of July we landed at Ankara. We spent the first days exploring the width and breadth of the mountain chain, thousands of meters of height difference to explore the valleys and canyons... to get a general picture of the place... until, there it is, the wall of our dreams! We established Base Camp at 2900m and reached the base of the wall but, damn it, there were no holds, we couldn't ascend where we wanted to. The wall was 700m high and the main summit towered directly above base camp... We didn't wanted to dare to much, attempting a 700m line meant spending the entire holiday on this face! But we decided to go for it neverthelss, the other options didn't convince us. At times rocks whistled down, the environment was similar to that at altitude, certainly nothing like a crag! But the weather was splendid, often without a cloud in sight. It was very hot in the sun and very cold in the shade. This meant T-shirt to down jacket in less than 15 minutes.

In ten days we finished and freed this outstanding route, reaching the summit at 17.00 on a fantastically clear and colourful day. Standing on the 3756m high summit of Demirkazik it truly seemed as if the world was at our feet! I had a truly memorable day on the actual redpoint, I didn't make a single mistake and climbed all 13 pitches free as well. It was one of those days you don't forget. My malign partners said it was due to my doping, because the day beforehand I had accidentally switched the stove fuel for Isotad and drank a swig, much to their delight and my worry... I've always been a diesel! Rolando and Michele in the meantime set up a spectacular 7c single pitch, "Dead man walking", close to base camp. Some locals came to watch us at work and attempted the "negative climb" as they called it.

Just four climbing days to send our line, incredible? Weather or group magic? We descended with another week of freedom, with the intention of being tourists at Capodoccia. But this was nothing for us and we fled once more into the mountains... an irresistable charm. Word of our route had spread like the speed of light throughout Turkey, and this is the only place where Turkish climbers can climb in summer. Two climbers offered us lodging , they were Recep and Zeynep who lived in a small wooden house at the foot of the mountains. A small piece of western Istanbul in a peasants village with dusty roads- - the contrast was striking. Rock music, beer and, if we wanted it, a board to train on... it was like a dream come true. In the garden the trees were ripe with apricots, in the morning we had fantastic breakfasts and in the evening we ate kebabs and salad. Could this be earthly paradise?

With them we decided to repeat the much feared French route on the Parmakkaya obelisk. Three repeats in ten years. We thought it would be a walkover, we had heard about bolted 6c on a French route (ah, clichés). But instead we encountered bolts every 7/10m and the grades (it seems these were only estimates) were high in the grade, as was later confirmed by two Swiss climbers who repeated the route last year. The French, as we were to find out later, were "only" climbers with 8b and 7b obligatory under their belt, born and bred beneath Mont Blanc... The difficulties reach 7b and for the entire route we have to proceed carefully so as to avoid 20m falls... But we manage to on-sight the route neverthelss in what turns out to be another memorable day, with the extremely pleasant Recep and Zeynep. After the summit photos and a Gaston Rebuffat parody we think it is now really all over and that we'll spend the last two days lazing beneath the pine trees. But Rolly stops a bit too often on the path to look at Parmakkaya. As if in a trance, literally blown over by the beauty of the obelisk, he cannot go away without it... "OK Rolly, we'll come, we'll come, but how will we manage to climb up in just the two remaining days? We know you by now, you're not thinking of a 6a!"

Two 14-hour days, storm and hail bring us to the slender Parmakkaya summit, climbing in turns and freeing the pitches the same day, with some pockets still filled with hail. If this isn't improvisation... or perhaps its only the exaggerated desire to play the music, and continue to do so even when the concert is over and the audience has gone home a while ago. "Thanks again" Recep wrote by email "for us you were a true revolution..." while some others in the Turkish cities thought that our bolts on Ala Daglar were superfluous because "the English don't use them"... Nothing new therefore, so we talk heatedly about "to bolt or not to be," ignoratn of the bombs in London or Sharm El Sheik... for once our horizon stops at the mountains just beyond the door...

Maurizio Oviglia, August 2005

ALA DAGLAR Expedition 2005
Rolando Larcher (CAAI), Maurizio Oviglia (CAAI), Michele Paissan

DEMIRKAZIK, 3757 m, East Face
"Uc Muz", 650 m, 8a max, 7b obligatory

PARMAKKAYA, 2880 m, East Face
"Mezza luna nascente", 270 m, 7c, 7a+ obligatory


Thanks for the technica support for LA SPORTIVA, NORTH FACE, KONG and MELLO'S. And thanks to Recep Ince for his bolts for the second route.


Rolando on the fourth pitch of "Mezza luna nascente" (ph Oviglia)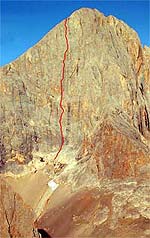 DEMIRKAZIK, 3757m
East Face
"Uc Muz", 650 m, 8a max, 7b oblig
click for the route line and route topo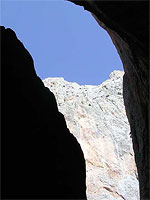 Cymbar Canyon (ph Oviglia)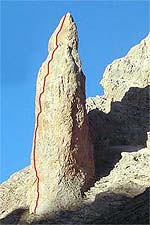 PARMAKKAYA, 2880m
East Face
"Mezza luna nascente" 270m, 7c, 7a+ oblig
click for route line and route topo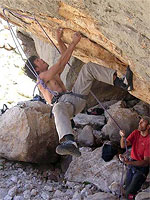 "Attila from Adana" attempting "Dead man climbing" (ph Oviglia)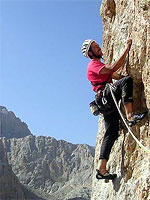 Maurizio Oviglia climbing on Parmakkaya (ph Larcher)