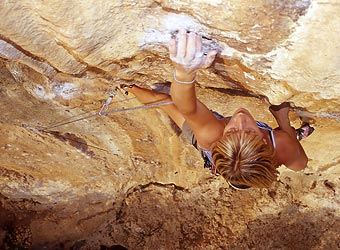 Great performance by Serik Kazbekov from the Ukraine and his companion Natalia Perlova. After the RockMaster in Arco,the two extended their stay to test their mettle at two of Italy's most important crags, Lumignano and Covolo. The results, in particular those of Serik, are astounding: "Shalom" 8b/+ flash at Covolo, and "Ghegoro" 8b+ on-sight! Natalia left for the World Cup in China after having redpointed the bouldery "Buona notte Fiorellino" 7c+. Those who know these crags know that the grades are anything but soft touch...
Thought about the Covolo Serik? "Nice, difficult, grades are anything but easy... a bit like in the Crimea".

Before leaving the two paid a visit to PlanetMountain. We had the impression the two really enjoyed their Italyn stay, and that the "vertical Crimea" is really worth discovering. Not only because of the crags on offer, but also because of the number of highly motivated local climbers. We'll let you know more about theri "eastern" approach to climbing, in the meantime enjoy Natalia's brief report about her Venetian holiday.


"After the competition in Arco we had two weeks before the next stage of the World Cup in China. We wanted to visit some new crags and we had the opportunity to stay with a friend in Padova. She suggested two crags, Lumignano and Covolo.

We were really surprised by the beauty of these crags and the climbing style. We went to Lumgnano twice, firstly to Settore Brojon, secondly to Classica. At the Brojon Serik on-sighted "Il toro di Pianiga" 8a+ and I did "Mr. Rawalpindi" 7b. In Classica we took lots of photos as it was extremely hot, and so we decided to train on a climbing wall at Padova.

Again we were pleasantly surprised by the wall and so many strong climbers who welcomed us with open arms. Our thanks goes to all of them, and especially to the local climber Marco Savio who adopted us at the Covolo. the climbing style is really demanding here, with short boulder sections, and the grades are anythiing but soft. Serik on-sighted"Buona notte Fiorellino" 7c+, "Beauty" 8a and "Incantesimo" 7c+/8a that day.

On the last day Serik was more fortunate, with on-sights of "Ghegoro" (ex 8b, now 8b+ after a hold broke) and a flash of "Shalom" after Marco had explained the moves and cleaned the holds. I for my part redpointed "Buona notte Fiorellino" 7c+.

To conclude, we really enjoyed our trip and Italy definitely left an excellent impression on us.

Our thanks goes to our sponsors, who enable us to do all of this Scarpa, Singing Rock, Ande""


Curriculum
Serik Kazbekov
On-sight
8b "N'oubliez jamais" Orpierre, France
8b "Dires Irae" Ceredo, Italy
8b "Australia" Ceredo, Italy
8b "Il ritorno di Ringo" Erto, Italy
8b+ "Ghegoro" Covolo, Italy

Flash
8b/+ "Shalom" Covolo Italy

Redpoint
8c/+ "Claudio Caffe" Terra Promessa, Arco, Italy
8c/+ "Matador" Nikita, Crimea
8c "Missione Impossibile" Orpierre, France
8c "Reini's Vibes" Massone, Italy

Natalia Perlova
On-sight
7c "Pourquoi t'est mal hereaux?" Orpierre, France
7c "Piani molteplici" San Siro, Italy

Redpoint
8a+ "Zenit" Nomesino, Italy
8a "Rigpa au la nature de l'esprit" Buis les barronnies, France
8a "Ex express" Nomesino, Italy
8a "Eskadron" Nikita, Crimea
8a "Tsunami" Krasnij Kamen', Crimea
8a "Vremya ch" Krasnij Kamen', Crimea
8a "Flatter" Krasnij Kamen', Crimea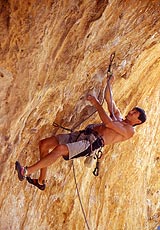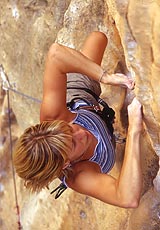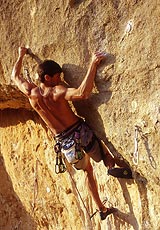 Photos: Serik on Atomic Cafè 8a, Natalia on El Somaro 8a and Serik on "Passo Falso 7c+"
| | |
| --- | --- |
| | Portfolio |
| | Rock Master 2004 |
| | Lumignano |
| | Orpierre |
| | Ceredo |
| | Massone |
| | Erto |
| | Expo Ande |