In the remote part of High Atlas Mountains in Morocco, a small Polish team comprised of David Kaszlikowski, Eliza Kubarska and Borek Szybinski freed the new multi-pitch "Barracuda" (7c+ max. 7a+ obligatory) on Mount Oujdad (2695m), Taghia Gorge in June 2004. Their new route takes a line close to Sur le fil de la nuit, first climbed by Rolando Larcher, Michele Paissan and Maurizio Oviglia in October 2003.
The new route climbs 600m of vertical and slightly overhanging slabs, and is bolt protected. The trio needed two weeks to establish the line, using a combination of free and aid climbing tactics to place the bolts on lead. Their advance was halted by snow falls, rain and disease caused by the dirty water, (despite water filters). The team slept in a portaledge and a small hammock, 200m above the Taghia canyon to avoid the exhausting and potentially dangerous approach run from Taghia. They eventually freed the route in late June exchanging leads.
"We started this climb as sky hook novices, and at the top of the mountain we felt like we were going to start a Sky Hook Dance Academy business. For experts only, of course" recalls Kaszlikowski.
"Even though 7c+ isn't "hard" anymore for today's experts, there are many different kinds of problems to tackle. The rock in Taghia is sharp and skin destroying. To free climb the whole big wall in one push could be painful. After all, a Barracuda is a "sharp and hard" fish :-)"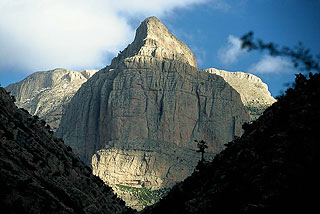 Taghia and the High Atlas range, by David Kaszlikowski
This part of the Atlas is more similar to the Alps than other African desert ranges (such as the Todra Gorge). The surrounding peaks are often roughly 3000m high, and some of the walls reach 800m in height. The second highest peak of the Atlas mountain range, Jebel M'Goun, is very close, too.
Taghia is a beautiful, remote village situated high in the mountains (1900m), 90 km from the closest town Azilal. To get there you need to use a Land Rover to the village Zaouia Ahansal, from where you walk for 2 hours, with all the equipment on the back of the mule. The Taghia area is the home of the Berber people, who are very polite and hospitable. There are two shelters (gite d'etape) in the village.
The deep canyons and red limestone walls create a breathtaking scenery. From an explorers' point of view, this place has lots of unclimbed walls. After two day-treks we found at least 5 major projects for 600m long free routes. But we haven't even seen half of the Taghia walls. It seems as if a climbing boom has begun in Taghia recently. After many years of silence, strong teams of explorers have begun to come here. The best season for climbing is May, June and September, October. Some people even come in summer to climb the north faces and canyons


Eliza Kubarska on Barracuda. Photo David Kaszlikowski


Monte Oujdad, 2695 m
BARRACUDA

FA: David Kaszlikowski, Eliza Kubarska and Borek Szybinski, June 2004
Grade: 7c+ max; 7a+ obligatory.
Length 600 m
Gear: bolted on lead, at times run-out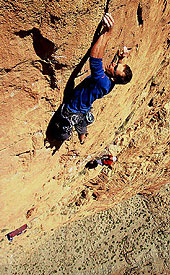 Borek Szybinski on Barracuda. Photo David Kaszlikowski