Good news travels fast. At times though, it takes a while to reach us. In April Steve House and Marko Prezelj made the coveted third ascent of the 5000 foot North face of North Twin, Canadian Rockies, via a new line.

The wall, first climbed by George Lowe and Chris Jones over a period of six days in August 1974, was conservatively graded VI, 5.8, A3, making it the hardest in North America at the time.

The face received its second ascent in 1985 at the hands of Dave Cheesmond and Barry Blanchard cia an independent line called the North Pillar. The route was done with four bivouacs and rated VI, 5.10d, A0, with only eight points of aid used on the entire 60-pitch route.

Steve House and Marko Prezelj started up an independent line on the face in early-April 2004, "a sensible winter variant" according to Blanchard. Sticking to the center of the face, which would be suicidal in summer, the pair quickly gained ground. Upon reaching the "Chicken traverse" (the ledge cutting the face at mid-height) they traversed to the Lowe-Jones route. They climbed 13 pitches to get through the headwall, rating the climbing 5.10, A3.

House followed the upper part with a single crampon and boot shell after dropping one from the third bivy. Marko, who led the last pitches said, " a straight up finish was possible, but after boot shell drop I was just looking for escape." Unable to return to their skis, the pair eventually escaped across the ice cap, wading through 15 miles of deep snow in 9 hours. House and Prezelj spent four days on the route.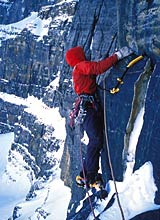 Steve House during the third ascent of the north face of North Twin, Canadian Rockies.
Photo Marko Prezelj