Cristian Brenna has returned from a quick visit to Hueco Tanks where he, unsurprisingly, sent a number of impressive boulder problems. Not wanting to focus on the grades though, Cristian sent us the following report of the American bouldering mecca.


BOULDERING: HUECO TANKS, TEXAS
by Cristian Brenna

"After travelling for 12 hours we reached Phoneix, but we hadn't arrived yet as we needed another 6 hours car journey to reach Hueco. As usual the journey started off with a couple of hiccoughs, and our bouldering mats get lost somewhere and we ended up exploring the airport for a couple of hours before setting off.

At the park we endured the same old video which explains how we should behave in this natural environment, but this time the film was also in Spanish, so we actually managed to understand something! Some things have changed since last year, the most important being the annual park fee, which increases from $55 to $60 but, and this is the good news, the pass is valid for the car and not for the single person, which means that if there are four of you, you manage to save a fair bit of money. As usual it's best if you book in advance, especially if you plan to climb at the weekends, so phone (915 857 1135) for guaranteed fun.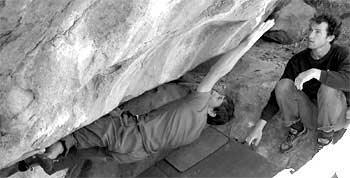 If we weren't lucky on the out journey, it has to be said that we were extremely lucky during our trip. Right at the start we met Ric, an American who works as a voluntary guide in the Park and who's spent the last 20 winters there and consequently knows every boulder. And so almost every day he showed us around East and West Mountain, the two areas where it's obligatory to climb with a guide.

After having tried Slashface and, with a guide like Ric to show us around, I decided to climb as much as possible instead of trying just one problem, on which I had a low success rate.

At Hueco the climbing is mainly overhanging on small crimps or massive pockets (the so-called huecos). The actual climbing is very physical and fairly easy to read, but the moves are always five-star quality and rewarding. If you really want to find a fault, then I'd say that there aren't enough slabs – in fact, there are hardly any here at all.

Have fun!
Cristian Brenna


Boulders
here is a short list of some of the boulder problems Cristian Brenna climbed on his most recent trip to Hueco:
- Free Willy v10/11
- Fred warm up v9 flash
- El Chupacabra left v10 2° tent.
- El Chupacabra right v11
- Mot v9 flash
- Focus v10/11
- Full Service v10




photo: Cristian Brenna on a V7 and El Chupacabra right v11; (ph arch. Brenna)




HUECO TANKS
USA, Texas, El Paso
Historical State Park

rock: volcanic
best time of year: October - April

One of the most important bouldering areas in America.
Home to some of the hardest boulder problems in the world, including Fred Nicole's "Slashface" V14




photo: Cristian Brenna climbing Focus v10/11. (ph arch. Cristian Brenna)