Angela Eiter's incredulous eyes said it all. The Austrian pulled off a stunning performance in Arco last weekend, topping out on both Saturday's on-sight and Sunday's redpoint to deservedly win the Rock Master 2003. Just seventeen years old, Eiter climbed determinedly and faultlessly to beat Muriel Sarkany and Sandrine Levet. The defending champion, possibly feeling the pressure of being the favourite, fell just a few moves from the top and was unable to match Eiter's result. A result which was further strengthened by her victory in the exciting Duel. At the end of the competition she confessed "I'd never even dreamed of winning the event."

But if in the women's event a new star is born, in the men's event king Chabot reconquered a throne never relinquished. Alexandre won his second Rock Master title in a row on Sunday by climbing stunningly on Saturday: on-sighting to within a whisker of the chain, Chabot powered a staggering 4.80 meters higher than nearest rivals Tomàs Mrazek and Ramòn Juliàn Puigblanque. All the Frenchman had to do on Sunday was climb solidly and make no mistakes on the redpoint route - and he did just that - narrowly missing the finishing jug but winning by a massive margin.

Tomàs Mrazek climbed splendidly on Sunday, finding an improbable no-hands rest at 3/4 height to then power to the top. Young Puigblanque did without the rest altogether and photocopied Mrazek's performance to place second equal. The two were split by Mrazek's speed performance in the Duel a few hours later where, in the final, he beat Patxi Usobiaga who settled in at fourth overall.




The bouldering competition, despite its unique rules (direct elimination after each problem of athlete with the worst result), proved spectacular and exciting. Olga Bibik dominated with 4 classy tops, beating surprise newcomer Alyzée Dufraisse in a long, and extenuating, superfinal. No doubt we will be seeing more of her, and third placed Giulia Giammarco, in the future.

The men's bouldering competition was intense under the midday sun and Mauro Calibani, with his knee strapped together with climbing tape, won for the second year running. His balancy slab act stole the show, but Serik Kazbekov's tenacity deserves a special mention, as does Daniel Dulac's perfect technique and sympathy.

One of the least understood disciplines is the Speed competition. This was won by the Russian Alerei Gadeev, ahead of Alexander Chaoulsky and Tomasz Olesky. Olesky fell twice in the Semifinal but, fighting for third place, clocked an extraordinary record 10.85.

The concluding paragraph is dedicated to the route setters, for they truly deserve it. Leonardo Di Marino and Donato Lella created small masterpieces: the men's routes were intense and well-balanced, the women's beautiful (in particular the redpoint route), and the duel final spectacular. Just like those set by Jackie Godoffe. Immagination and creativity at its best.

by Vinicio Stefanello


RockMaster - women
1) Angela Eiter (Austria)
2) Muriel Sarkany (Belgium)
3) Sandrine Levet (France)
4) Alexandra Eyer (Switzerland)
5) Jenny Lavarda (Italy)
6) Maja Vidmar (Slovenia)
7) Martina Cufar (Slovenia)
8) Bettina Schoepf (Austria)
9) Damaris Knorr (Germany)

RockMaster - men
1) Alexandre Chabot (France)
2) Tomàs Mràzek (Czech Republic)
3) Ramòn Juliàn Puigblanque (Spagna)
4) Patxi Usobiaga (Spagna)
5) Cédric Lachat (Switzerland)
6) Christian Bindhammer (Germany)
7) Evgenj Ovtchinnikov (Russia)
8) Cristian Brenna (Italy)
9) Flavio Crespi (Italy)
10) Alberto Gnerro (Italy)
11) Evgeni Krivocheicev (Ukraine)
12) François Legrand (France)

Sint roc boulder contest women
1) Olga Bibik (Russia)
2) Alizée Dufraisse (France)
3) Giulia Giammarco (Italy)
4) Natalia Perlova (Ukraine)
5) Iulia Abramtchuk (Russia)
6) Vera Kotasova (Czech Republic)

Sint roc boulder contest men
1) Mauro Calibani (Italy)
2) Serik Kazbekov (Ukraine)
3) Daniel Dulac (France)
4) Salavat Rakhmetov
5) Kilian Fischhuber (Austria)
6) Tomasz Oleksy (Poland)
7) Wouter Jongeneelen (Holand)

"The duel" - women - Trofeo "Ennio Lattisi"
1) Angela Eiter (Austria)
2) Muriel Sarkany (Belgium)
3) Alexandra Eyer (Switzerland)
4) Sandrine Levet (France)

"The duel" men - Trofeo "Ennio Lattisi"
1) Tomàs Mràzek (Czech Republic)
2) Patxi Usobiaga (Spain)
3) Ramòn Juliàn Puigblanque (Spain)
4) Alexandre Chabot (France)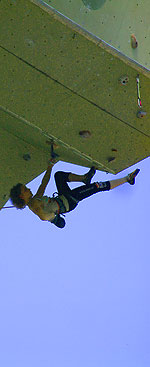 Angela Eiter.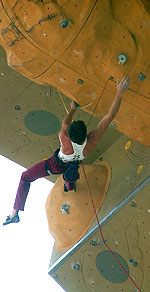 Alexandre Chabot


Mauro Calibani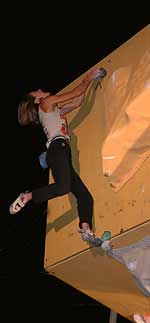 Olga Bibik
ph Planetmountain.com