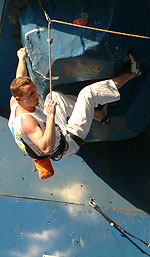 Muriel Sarkany and Tomás Mrazek are the winners of the Difficulty World Championship 2003. After winning almost all there is to win over the last couple of years, the Belgian deservedly adds the missing World Championship title to her long list of victories. Mrazek's win is finally "official" confirmation of his immense strength which, all too often, brought him to within a whisker from true victory.

Mrazek powered up through the technical bulges on Sunday evening and, although not able to reach the finishing holds, climbed almost 2 meters higher than closest rival Patxi Usobiaga. The Spaniard's second place comes as a small surprise to some, pushing Frenchman David Caude into an excellent third place. The evening's real surprise came from none other than Alexandre Chabot himself, who in the end placed fifth overall.

Arguably this change at the top has been in the making for a while, and the last few competitions showed how equally spread the top male competitors have now become. Unbeatable Chabot suddenly "seems" slightly more human, demonstrating that he too can be off form and in difficulty. And this will no doubt have a positve psychological effect on his adversaries, as they now know that, he too, is vunerable. Christian Bindhammer's fourth place is worth underlining: never somone who gives up, Christian is well capable of top positions any time. The remaining finalists finished as follows: Sylvain Millet sixth, Ramon Julien Puigblanque seventh and Evgueni Ovtchinnikov eigth.

In the women's event Sarkany had no rivals and missed the top. Two meters lower down six finalists battled it out on one hold, with some touching, and others holding the hold, and Emilie Pouget moving off from it. Pouget placed second, ahead of teammate Sandrine Levet. Levet hoped to do the unprecedented grand Slam by winning both the Bouldering and the Difficulty events, but in the end placed third. Jenny Lavarda from Italy placed fourth, ahead of Alexandra Eyer, Caroline Ciavaldini and Angela Eiter, fifth to seventh respectively.

The crowd, estimated at 12000 for Sunday's final, crownd the event. As if to say, just like in Lecco, that this sport potentially has all the right credentials to make it big.





Results women
 
 
Final
1/2 Final
1/4-Final
1
Sarkany
Muriel
BEL
24.60-
Top
Top
2
Pouget
Emilie
FRA
22.27+
18.15-
Top
3
Levet
Sandrine
FRA
22.27
Top
Top
4
Lavarda
Jenny
ITA
22.27-
18.15
Top
5
Eyer
Alexandra
SUI
22.27-
18.15-
Top
6
Ciavaldini
Caroline
FRA
22.27-
16.94
Top
7
Eiter
Angela
AUT
22.27-
16.94-
Top
8
Bacher
Barbara
AUT
20.12
17.42+
Top
9
Harrington
Emily
USA
17.72-
16.94-
Top
10
Shalahina
Olha
UKR
7.26-
16.94-
Top
11
Novikova
Natalia
RUS
 
16.94-
17.51+
12
Cufar
Martina
SLO
 
16.01+
Top
12
Schöpf
Bettina
AUT
 
16.01+
Top
14
Ostapenko
Alena
UKR
 
16.01
19.92-
15
Hnizdilova
Sona
CZE
 
14.74-
17.51+
Results men
 
 
Final
1/2 Final
1/4 Final
via 1
1/4 Final
via 2
1
Mrazek
Tomás
CZE
23.55-
22.50-
Top
 
2
Usobiaga
Patxi
ESP
21.29+
20.64-
 
Top
3
Caude
David
FRA
21.29
24.24+
Top
 
4
Bindhammer
Christian
GER
15.40-
20.64
Top
 
5
Chabot
Alexandre
FRA
14.48-
25.00-
 
Top
6
Millet
Sylvain
FRA
12.31-
23.76-
Top
 
7
Puigblanque
R. Julián
ESP
10.81
22.87-
Top
 
8
Ovtchinnikov
Evgueni
RUS
10.81
20.64
 
Top
9
Auclair
François
FRA
 
19.56+
19.54
 
9
Lachat
Cédric
SUI
 
19.56+
 
Top
9
Pouvreau
Gérome
FRA
 
19.56+
 
Top
12
Crespi
Flavio
ITA
 
19.56-
Top
 
12
Zardini
Luca
ITA
 
19.56-
 
Top
14
Petit
François
FRA
 
19.38-
 
Top
15
Rakhmetov
Salavat
RUS
 
17.94+
19.54+
 
16
Son
Sang-Won
KOR
 
16.53
Top
 
17
Lella
Donato
ITA
 
15.88+
 
Top

Tomás Mrazek competing in Lecco 2003 (ph Planetmountain.com)