On Monday 16 September Mauro Bole managed to repeat Alexander Huber's Bellavista on the Cima Ovest, Lavaredo in two steps, first the upper section, then the lower.

Teamed together with Cristian Brenna, Bole toproped the two pitches beneath the great roof and, feeling well, set off on the crux 8c pitch that he had been working over the last couple of months. Everything fell neatly into place and so Bole continued up to the top of the route, before abseiling down and quickly setting off once more up the first pitches to free all the pitches.

The story will no doubt continue, as both Bole and Brenna intend to climb the line from the ground up in one push. In the meantime though it has started to snow...


Alex Huber climbs
Bellavista (27/07/01)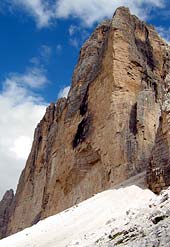 The North Face of the Cima Ovest di Lavaredo.