On 20 July Ines Papert from Germany made an impressive first female ascent of "Camillotto Pellesier" on the North Face of Cima Grande, Dolomites. The old aid route, first ascended in 1967 by E. Mauro and M. Minuzzo, had been freed in 2003 by Mauro Bubu Bole at F8b.

Papert attempted the line in early 2005 but a fall in July on the south face of the Marmolada put an end to hopes of a fast ascent. Almost a year later Papert returned to the 11 pitch, 200m slightly overhanging line and worked the route for circa 10 days prior to her redpoint ascent of 20 July.

Together with Wasti Schöndorfer and the photographer Rainer Eder she set off at 8.00am up the first 7b+ pitch. Things ran smoothly until the 6th pitch, when a foothold unexpectedly broke, leaving the reigning ice champion dangling in the void. She lowered to the belay and immediately set off again, sending the pitch and the rest of the route and summiting, high above the Dolomites, at 6.00pm!

Papert has suggested some minor changes to the some grades on the pitches (in parenthesis) and felt the route to be... a dream come true!


Via "Camillotto Pellesier"
Cima Grande di Lavaredo 2999m
North Face

F.A.: E. and M. Minuzzo (1967)
FFA: Mauro Bubu Bole (2003)
Grade: 11 pitches
P1. 7b+, P2. 7c (7c+), P3. 8b (8a+), P4. 8a (7c+), P5. 7a, P6. 8a+ (8a+/8b), P7. 6c+, P8. 6a, P9. 6b, P10. 5, P11. 5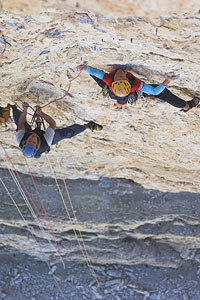 photo: Ines Papert making the first female ascent of "Camillotto Pellesier", 8a+/8b, Cima Gande, Dolomites.