A strong young Belgian team comprised of Nicolas Favresse, Olivier Favresse, Seán Villanueva and Mike Lecomte has made a rare repeat of Riders on the Storm, one of the crown jewels in Patagonia's repertoire of classic climbs. The 1300m route, first ascended in 1991 by Norbert Bätz, Peter Dittrich, Bernd Arnold, Wolfgang Güllich and Kurt Albert, takes a direct line up the compact granite East Face of Paine's Central Tower and was originally graded VI 5.12d A3.

The Belgian team spent 11 days on the wall and reached the summit on 8 February after a typical Patagonian start: Base Camp had been wiped out due to gale force winds, resulting in plenty of missing and damaged gear even prior to starting the first pitch. Unshaken the Belgians set off and after two days of "climbing on corners to small crimpers, incredible cracks, scary offwidths and chimneys, pure joy" reached pitch 13 where they established two portaledges.

The next day they pushed on up to pitch 18 before a two-day storm pinned them to their high camp. After the wait they continued up past the legendary great roof (pitch 25), but another three day storm forced them to rest in the portaledges at pitch 13 prior to the successful final push, which saw the four of them top out at 19.30. A long series of abseils, stuck ropes and another storm landed them safely on the glacier where they concluded their "absolutely magical experience."

Luck and weather conditions permitting this experience is due to continue though, as the team is currently travelling to the east pillar of Fitz Roy, where they plan to climb Royal Flush, the 44 pitch 7c/A2 outing first ascended in 1995 by Kurt Albert, Bernd Arnold, Jorg Gerschel and Lutz Richter. Keep tuned!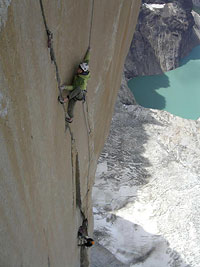 photos: Nicolas Favresse high on Riders on the Storm
Photo: © patagonia team